Festive Circus Circus Casino Las Vegas
Festive Circus Circus Casino Las Vegas Review
Circus Circus Casino Las Vegas is an iconic long standing 3 star Hotel and Casino. Here you have an array of activities you can engage while staying here. Circus Circus is also the largest permanent big top in the world. Next door and part of the Circus Circus establishment is the somewhat modest Slot-A-Fun casino.
Featured at Circus Circus are several outdoor swimming pools, all your favorite casino games, free circus acts at the center of the Carnival Midway games, indoor theme park with 25 rides, 5 restaurants, six bars, coaster rides and more. The Splash Zone offers swimming pools, whirlpools, water playground and a 50 foot slide tower. The 5 acre Adventuredome features rides and attractions ranging from kid friendly to thrill seeker.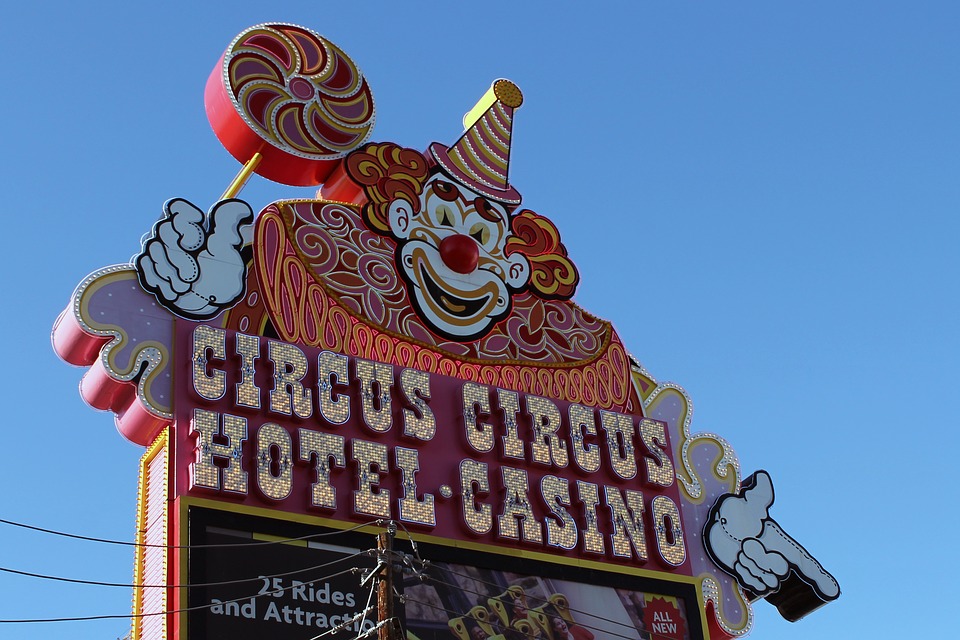 Start Your Stay In Las Vegas By Booking Your Room At Circus Circus Hotel and Casino
⇩ ⇩ ⇩ ⇩ ⇩ ⇩ ⇩ ⇩
Book Your Circus Circus Hotel Room Now
Best Price Guarantee
Click Here For Details At Vegas.com

Circus Circus Location
Circus Circus Hotel And Casino address is
2880 Las Vegas Blvd S, Las Vegas, NV 89109
Circus Circus is located on the west side north part of
the Las Vegas Boulevard next to the Slots O Fun casino.
Circus Circus Hotel and Casino Map Location
Walking Distance From Circus Circus To:
New York New York
56m
2.9
Circus Circus Casino Las Vegas Things To Do
The Midway
The Midway surrounds the circus stage. Huge selection of games and premium prizes. Plus over 200 classic games popular today and previous years.
Circus Acts
World class circus acts perform for the enjoyment of all ages throughout the day. You will enjoy trapeze acts, feats of strength acts, juggling acts, contortionist acts, aerial displays, clowns and more.
Adventuredome
Inside the Circus Circus, the Adventuredome features rides and attractions ranging from kid friendly to daredevil. Coaster rides, junior rides, kid rides, large rides, premium rides, rock climbing wall, miniature golf course and more.
Splash Zone
The Splash Zone features swimming pools, whirlpools, water playground and a 50 foot waterslide tower. PLayground for all ages with waterfalls and splash buckets. Cabanas to relax in.
Shopping
40,000 square feet of shopping for souviners, gifts or necessities you may need. A variety of stores offering shopping for apparel, art, electronic accessories, fashion, footwear, jewelry, photo, souvenirs, specialty stores, toy and novelty stores.
Circus Circus Casino Las Vegas Restaurants
American
Westside Deli, Burgers & More, McDonalds, Starbucks
Inside Slots-A-Fun
Subway
Dairy Desserts
Tasti D Lite
Gourmet Pretzels
Auntie Annes
Mexican
Blue Iguana Mexican
Circus Circus History
Circus Circus was opened on October 18, 1968 by Jay Sarno and Stanley Mallin. Architects Rissman and Rissman Associates designed a giant circus tent shaped main structure, which was built by R.C. Johnson Construction of Las Vegas.
At its opening, the $15 million facility only included a casino. The lack of a hotel resulted in financial problems, as the casino was not able to attract high rollers. Sarno obtained a $23 million loan from the Teamsters Pension Fund to construct a hotel. In 1972, the property opened its first hotel tower.
In 1974, ownership changed with the sale of the casino to William Bennett and William Pennington for $25 million, becoming the first property of what would become Circus Circus Enterprises (later known as Mandalay Resort Group). Circus Circus was expanded with more hotel tower additions in 1975, 1980, 1986, and 1996.
It became a public company in 1980 as Circus Circus Enterprises, opening Excalibur and Luxor. In 1999, the company became the Mandalay Bay Resort Group after opening Mandalay Bay Resort Casino and then in 2005, MGM Resorts bought the properties.
Circus Circus created an indoor amusement park in 1993 and is continually expanding the addition.
In 2019, MGM Resorts International sold Circus Circus to Phil Ruffin, owner of the Treasure Island Hotel and Casino, for $825 million. The sale included the adjacent Slots-A-Fun Casino.
Slots-A-Fun At Circus Circus
Slots-A-Fun, located next door to Circus Circus, is part of the Circus Circus establishment. Slots-A-Fun opened in August 1971. Since 2011, The casino no longer hosts live table games. Mostly games available are slots and electronic table games. Slots-A-Fun has a bar, a Subway restaurant, a gift shop, a mini-bowling alley similar to skee ball and more.
Start Your Stay In Las Vegas By Booking Your Room At Circus Circus Hotel and Casino
⇩ ⇩ ⇩ ⇩ ⇩ ⇩ ⇩ ⇩
Book Your Circus Circus Hotel Room Now
Best Price Guarantee
Click Here For Details At Vegas.com