Hermes Shopping at the Bellagio in Las Vegas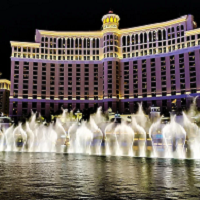 When it comes to luxury shopping, few brands can match the exclusivity and prestige of Hermes. And if you're looking for a truly exceptional shopping experience, the Hermes store at the Bellagio in Las Vegas should be at the top of your list.
As soon as you enter the store, you'll be struck by the beautiful interior design. The Hermes store at Bellagio is truly a work of art, with sleek lines, modern fixtures, and a luxurious feel that is hard to match. From the gleaming hardwood floors to the sparkling chandeliers, every detail of the store has been carefully curated to provide a high-end, elegant atmosphere.

But it's not just the interior design that sets Hermes apart. The customer service at the Bellagio store is also exceptional, with knowledgeable and friendly staff members who are always eager to help. Whether you're looking for advice on which products to purchase or just need help finding your way around the store, the staff at Hermes are always ready to assist.
Of course, the main draw of Hermes is the brand's iconic products. From their coveted Birkin and Kelly handbags to their elegant silk scarves and chic clothing, everything in the store is a masterpiece of design and craftsmanship. And while the prices may be high, the quality of the products is truly unmatched. If you're looking for a piece of luxury fashion that will last for years to come, Hermes is the perfect brand to invest in.
One of the most unique features of the Hermes store at Bellagio is the brand's exclusive custom order service. This allows customers to create their own personalized, one-of-a-kind Hermes piece. From selecting the leather and color to choosing the hardware and adding personalization, the custom order process is a truly special experience that allows customers to create a piece that is uniquely their own.
But even if you're not in the market for a custom piece, there is still plenty to explore at the Hermes store at Bellagio. From the signature orange boxes and bags to the beautiful displays of handbags, accessories, and clothing, the store is a feast for the eyes. And with new products being released regularly, there is always something new and exciting to discover.
Overall, the Hermes store at Bellagio is a must-visit destination for anyone looking for a luxury shopping experience. With its beautiful interior design, exceptional customer service, and iconic products, Hermes is the perfect brand for those who appreciate the finer things in life. So why not treat yourself to a little luxury and head to the Hermes store at Bellagio today? You won't be disappointed.