Inspiring Treasure Island Casino Hotel Review
Treasure Island Casino Hotel offers a sophisticated appeal for the traveler plus an exciting, distinctive and friendly location for your stay on The Strip. Treasure Island Casino Hotel also has great rates and is listed with some of the finest rooms and suites on the Las Vegas Strip.
Treasure Island hotel and casino is a 4 star resort with an outdoor tropical pool, elegant spa and salon, 8 restaurants, 9 bars and lounges. Plus 95,000 square feet of casino gaming action for you to try your luck. Treasure Island Resort and Casino also features the top rated show the Mystère™ by Cirque du Soleil®.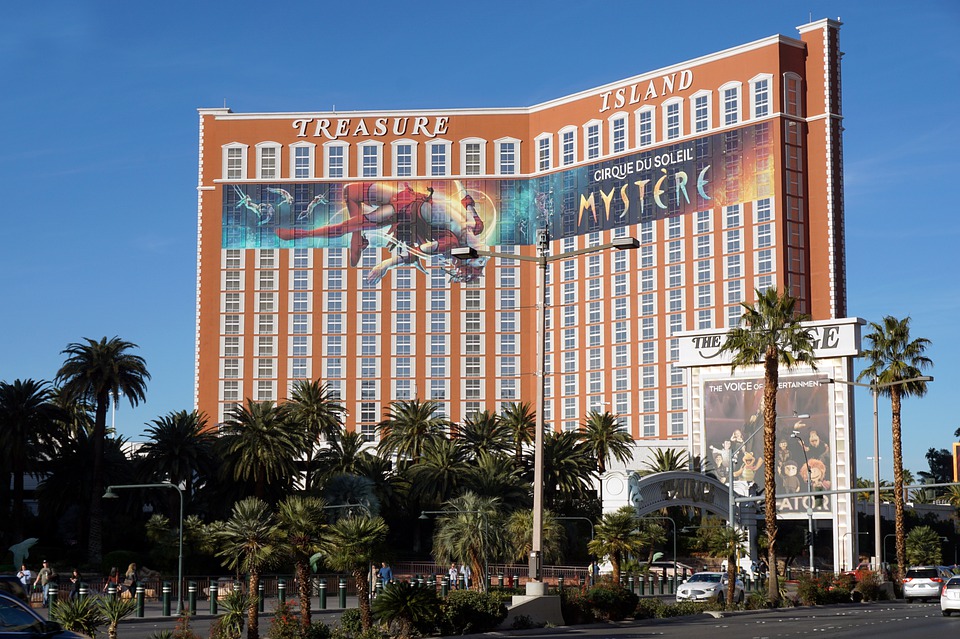 Start Your Stay In Las Vegas By Booking Your Room At Treasure Island Hotel and Casino
⇩ ⇩ ⇩ ⇩ ⇩ ⇩ ⇩ ⇩
Book Your Treasure Island Hotel & Casino Room Now
Best Price Guarantee
Click Here For Details At Vegas.com
Reserve Your Tickets For Shows At At Treasure Island Hotel and Casino
⇩ ⇩ ⇩ ⇩ ⇩ ⇩ ⇩ ⇩
Treasure Island Location
The Treasure Island address is
3300 Las Vegas Boulevard S, Las Vegas, NV 89109
Treasure Island is located on the west side and north part of the Las Vegas Boulevard next to the Mirage Casino
Treasure Island Map Location
Treasure Island Hotel & Casino Las Vegas Things To Do
Pools & Cabanas
TI Las Vegas Pool & Cabanas
Bars & Lounges
GILLEY'S SALOON, SENOR FROGS, GOLDEN CIRCLE SPORTSBOOK & BAR, BREEZE BAR, MOJITO BAR, ISLAND PUB & POOL BAR, MARGARITA BAR, STEAK HOUSE BAR, HIGH LIMIT LOUNGE
Spa
Oleksandra Spa & Salon
Shopping
TI Las Vegas Shopping & Malls
Salon
Oleksandra Spa & Salon
Walking Distance From Treasure Island To:
New York New York
31m
1.6
Treasure Island Casino Hotel Restaurants
Italian
PHIL'S ITALIAN STEAK HOUSE
Pizza
PIZZERIA FTANCESCO'S
Breakfast, Lunch & Dinner
THE COFFEE SHOP
American
SEÑOR FROG'S, GILLEY'S SALOON, DANCE HALL & BBQ, STARBUCKS & MALENA'S YOUGURT PLUS, RICHIE'S SUB SHOP
Barbecue
GILLEY'S SALOON & BBQ
Treasure Island Casino Hotel History
The Treasure Island casino opened on October 26,1993 which mainly included a large casino, 2,900 hotel rooms, free elaborate pirate boat show in front of the casino and a sign featuring an 8,000-pound pirate skull. Under Steve Wynn's vision, originally The Treasure Island was going to be an extension of the Mirage until it turned into a full fledged casino and hotel.
Shortly after opening, a change in concept led to a huge renovation to improve business. In 2003 a more sophisticated appeal was desired which led to another major renovation. The name was change to TI for a sleeker more appealing look. The skull sign was removed on July 10, 2003. The sign was replaced with a more modern design.
MGM Mirage sold the resort on December 15,2008 for $775 million dollars to Phil Ruffin who formerly owned the demolished New Frontier Hotel and Casino.
The Sirens of TI pirate battle show ended on October 21, 2013. Treasure Island joined Radisson Hotel Group starting in July 2019. There have been many film and television show mentioning the TI and it's sign.
Start Your Stay In Las Vegas By Booking Your Room At Treasure Island Hotel and Casino
⇩ ⇩ ⇩ ⇩ ⇩ ⇩ ⇩ ⇩
Book Your Treasure Island Hotel & Casino Room Now
Best Price Guarantee
Click Here For Details At Vegas.com