Michael Mina Restaurant at the Bellagio in Las Vegas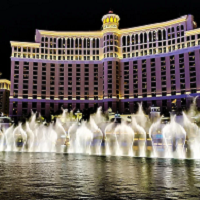 The Michael Mina Restaurant at the Bellagio in Las Vegas is a culinary gem that should not be missed by any food enthusiast. Located in the heart of the resort, this elegant eatery offers a delectable menu of contemporary American cuisine with a touch of international flair. From the impeccable service to the beautifully presented dishes, everything about Michael Mina is simply outstanding.
Upon entering the restaurant, guests are greeted by an opulent dining room featuring elegant chandeliers, plush seating, and tasteful decor. The ambiance is sophisticated yet relaxed, creating the perfect setting for an unforgettable meal. The restaurant also boasts a stunning view of the resort's iconic fountain, providing a picturesque backdrop for diners.

The menu at Michael Mina is an impressive collection of dishes that showcase the chef's creativity and culinary expertise. The restaurant offers both a la carte and tasting menu options, and both are equally impressive. The tasting menu is a journey through a series of courses, each one more exceptional than the last. Each dish is meticulously crafted using the finest ingredients, resulting in a flavor profile that is both complex and harmonious.
The appetizers at Michael Mina are a perfect introduction to the restaurant's cuisine. The Hamachi Tartare is a standout dish, featuring finely chopped yellowtail, avocado, and chili-lime vinaigrette. The Ahi Tuna Tartare is also a must-try, with its delicate slices of tuna paired with a refreshing ginger-soy sauce. The Foie Gras Torchon is another standout appetizer, with its buttery texture and rich flavor.
Moving on to the main courses, the Wagyu Beef Tenderloin is a crowd favorite, with its melt-in-your-mouth texture and deep, umami flavor. The Maine Lobster Pot Pie is another standout dish, with its succulent chunks of lobster and savory sherry cream sauce. For those looking for something a little more adventurous, the Black Truffle Risotto is a must-try, with its earthy truffle flavor and creamy texture.
One of the highlights of the Michael Mina menu is the selection of side dishes, which are just as impressive as the main courses. The Roasted Brussels Sprouts are a standout, with their crispy exterior and tender interior. The Truffled Mac and Cheese is also a crowd favorite, with its decadent combination of pasta, cheese, and truffle oil. And for those who love a good steakhouse-style side dish, the Potato Gratin with Gruyere Cheese is a must-try.
Of course, no meal at Michael Mina would be complete without dessert. The restaurant's pastry chef has created a selection of sweet treats that are sure to delight even the most discerning palate. The Chocolate Crunch Bar is a standout, with its layers of chocolate mousse, hazelnut praline, and crispy chocolate crunch. The Coconut Panna Cotta is another must-try, with its silky-smooth texture and delicate coconut flavor.
In addition to its exceptional cuisine, Michael Mina also boasts a wine list that is both extensive and impressive. The restaurant offers an impressive selection of wines from around the world, with a focus on California varietals. The restaurant's sommelier is knowledgeable and attentive, and is always on hand to help guests select the perfect bottle to complement their meal.
The service at Michael Mina is exceptional, with a team of attentive and knowledgeable servers who are dedicated to providing guests with a memorable dining experience. From the moment guests are seated to the time they leave, the staff at Michael Mina go above and beyond to ensure that every detail is taken care of.
Overall, the Michael Mina Restaurant at the Bellagio in Las Vegas is an exceptional dining destination that should not be missed. From the exceptional cuisine to the impeccable attention to detail is evident in every aspect of the Michael Mina Restaurant experience. The ambiance is refined and elegant, with contemporary decor and an open kitchen that allows guests to watch the culinary team at work. The restaurant also features a private dining room, perfect for intimate events or special occasions.
Service at Michael Mina is top-notch, with knowledgeable staff who are eager to assist with menu recommendations or wine pairings. The waitstaff is attentive without being intrusive, ensuring that guests are comfortable and well-cared for throughout their meal. The restaurant also offers a sommelier, who can expertly guide guests through the extensive wine list and help them find the perfect bottle to complement their meal.
Of course, the true star of Michael Mina Restaurant is the food. Chef Mina's menu is a celebration of classic American cuisine, with inventive twists and unexpected flavor combinations. Dishes are expertly prepared with the finest ingredients, resulting in a culinary experience that is both comforting and luxurious.
Starters include highlights like the "Three Little Pigs" – a trio of pork dishes including a bacon-wrapped quail egg, crispy pork belly, and a pulled pork slider. Other standout dishes include the Maine Lobster Pot Pie, served tableside in a golden crust, and the Japanese A5 Wagyu, which is melt-in-your-mouth tender and richly flavorful.
Entrees are equally impressive, with dishes like the Liberty Farms Duck Breast, which is cooked to a perfect medium-rare and served with a delightful cherry compote. The Braised Short Rib is also a favorite, slow-cooked for 48 hours until it's fork-tender and served with horseradish cream and red wine jus. Vegetarians will also find plenty of delicious options, including the stunning Wild Mushroom Pappardelle, which is made with fresh house-made pasta and topped with a rich truffle cream sauce.
Desserts are a perfect ending to the meal, with options like the Banana Toffee Cake, which is warm, gooey, and absolutely heavenly. The Chocolate Bar is also a must-try, with layers of rich chocolate mousse, crunchy praline, and a delicate raspberry sorbet.
The beverage program at Michael Mina is equally impressive, with an extensive wine list featuring both old and new world selections, as well as inventive cocktails that perfectly complement the flavors of the food. The "Smoked Negroni" is a standout, with a rich smokiness that perfectly balances the bitterness of the classic Negroni.
Overall, the Michael Mina Restaurant at the Bellagio is a true gem in the Las Vegas dining scene. The combination of exceptional cuisine, attentive service, and sophisticated ambiance create a dining experience that is both memorable and luxurious. Whether you're celebrating a special occasion or simply looking for a night out with friends, Michael Mina Restaurant is a must-visit for anyone who appreciates fine dining at its best.