Review Of The Mandalay Bay Wave Pool In Las Vegas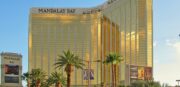 The Mandalay Bay Wave Pool in Las Vegas is a popular attraction that draws thousands of visitors each year. With its impressive size, crystal-clear water, and thrilling wave patterns, the pool offers a unique and exciting experience for visitors of all ages.
One of the most impressive features of the Mandalay Bay Wave Pool is its size. The pool covers an expansive area of over 1.6 acres, making it one of the largest wave pools in the world. The size of the pool ensures that there is plenty of space for guests to spread out and enjoy the water, even on the busiest days.

Another standout feature of the wave pool is its crystal-clear water. The pool is meticulously maintained and cleaned, ensuring that the water is always clear and inviting. The water is also heated to a comfortable temperature, making it a great place to escape the hot Las Vegas sun.
Of course, the most exciting feature of the wave pool is the waves themselves. The pool features a variety of wave patterns, ranging from gentle rolling swells to more intense waves that can reach heights of up to six feet. The waves are created by a complex system of pumps and filters that work together to simulate the natural motion of ocean waves. The result is a thrilling and exhilarating experience that is sure to get your heart racing.
In addition to the wave pool itself, the Mandalay Bay also offers a variety of amenities and services to make your visit as enjoyable as possible. There are plenty of loungers and chairs surrounding the pool, providing a comfortable place to relax and soak up the sun. There are also several bars and restaurants located nearby, so you can grab a drink or a bite to eat without having to leave the pool area.
The pool is also staffed by a team of trained lifeguards who are always on duty, ensuring that guests are safe and secure while in the water. The lifeguards are highly trained and experienced, and they are always available to answer questions or provide assistance as needed.
One thing to note is that the wave pool can get quite crowded during peak times, especially on weekends and holidays. If you are looking for a quieter experience, it may be best to visit during the week or in the early morning before the crowds arrive. However, even during busy times, there is still plenty of space to enjoy the waves and have a great time.
Overall, the Mandalay Bay Wave Pool is an exceptional attraction that offers a unique and exciting experience for visitors of all ages. Whether you are looking to ride the waves, soak up the sun, or simply relax and unwind, the wave pool's impressive size, crystal-clear water, thrilling waves, and excellent amenities make it a must-visit destination in Las Vegas.