Segway Las Vegas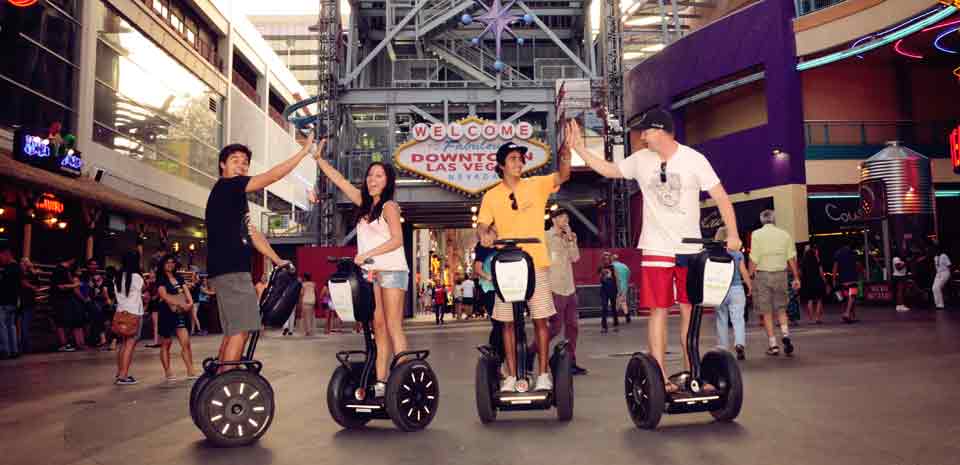 If you've never experienced downtown Las Vegas on a Segway PT, you're totally missing out. It's fancy. It's futuristic. Best of all, it's fun.
This downtown Las Vegas adventure, doesn't just rock, it rolls. Literally. You ride a Segway PT — a two-wheeled, self-balancing personal transporter with an electric motor — past iconic locations such as the Gold and Silver Pawn Shop of the History Channel's "Pawn Stars" fame, the sustainable and unique Downtown Container Park or vintage-inspired wedding chapels. 
View Vegas from a different perspective  — the shiny neon lights, the eclectic music, the yardlong margarita-drinking crowds — as you ride through the open-air with the wind in your hair. Don't forget your camera. In addition to a Segway's cool factor, it's also saves tons of energy. You won't tire out from too much walking, and you won't waste gas by driving.  Before you get rolling, you receive about 15 to 20 minutes of training.
Once on the road, an entertaining and knowledgeable tour guide provides narration, historical facts and little-known info along the way.  There are a few Segway Las Vegas downtown tours to choose from: Fremont Street Tour (2 hours) Includes the Mob Museum, Wedding Chapels, Healing Garden, Fremont Street Experience, Art District, Gold and Silver Pawn Shop and Downtown Container Park.  Fremont Experience Tour (1 hour) Includes historic downtown Las Vegas casinos and scenic views of Fremont Street.
Foodie Tour (2.5 hours) Sample a variety of drinks and/or shared dishes from the city's many hidden culinary gems. Stops include air conditioned and outdoor seating.  City Lights Night Tour (1.5 hours) This tour will take you around Downtown Las Vegas at night when the sky and the signs are both blazing with color. No matter which tour you choose, you're likely to see parts of Las Vegas you didn't even know existed, from the old casinos to the new revitalization of downtown. 
Segway Las Vegas Location
The Segway Las Vegas address is
707 E Fremont St #1130, Las Vegas, NV 89101
Start your Segway Las Vegas Adventure at Fremont Street in downtown Las Vegas
Map Location Of Segway Las Vegas On Fremont Street