Sensational Caesars Palace Casino Las Vegas Review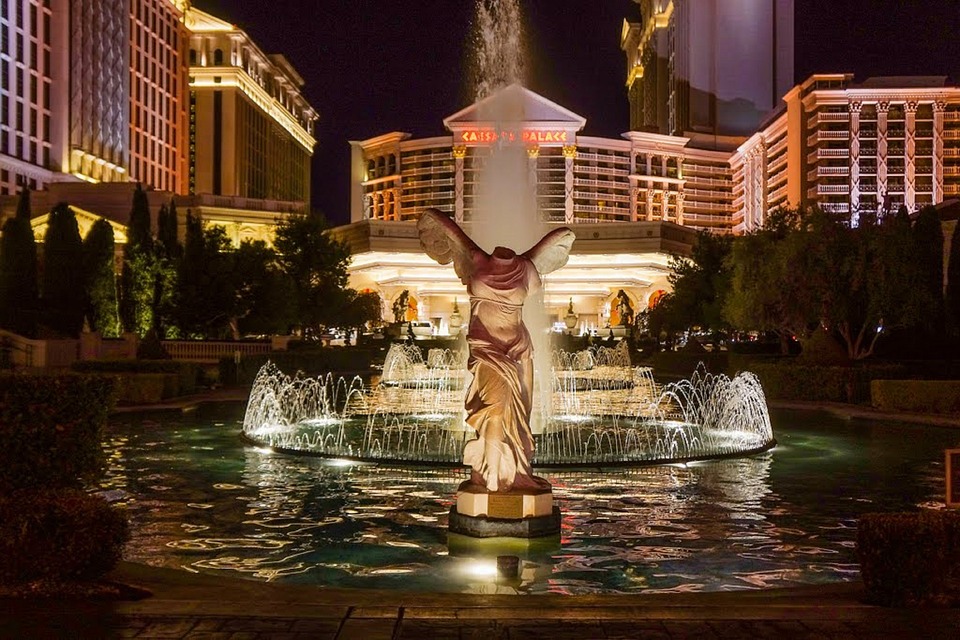 Caesars Palace Casino Las Vegas Page Contents
Sensational Caesars Palace Las Vegas Review
At Caesars Palace Casino Las Vegas, you will enjoy luxurious, top entertainment and endless Roman era experiences. As you travel throughout the massive Roman themed outlet you will witness it's many statues and columns in the casino's diverse environment. Caesars Palace rules over the center Strip as one of Las Vegas's best known landmarks. Caesars Palace has been around since 1966 and we admire this Las Vegas hotel for its ability to change with the times and it's glitz with a Greco-Roman take, meandering layout.
Caesars Palace is a 4 star resort with a wide range of rooms.
Throughout Caesar Palace's history it has hosted many top rated entertainers, various sporting events and the infamous Evil Knievel motorcycle jump. By constantly modernizing — from adding new Las Vegas restaurants and the world's first-ever Nobu Hotel to bringing in star performers like Jerry Seinfeld and Reba, Brooks & Dunn and shows like the circus-style burlesque "Absinthe" – this empire shows no signs of decline.
Caesars Palace Casino Las Vegas Shows And Attractions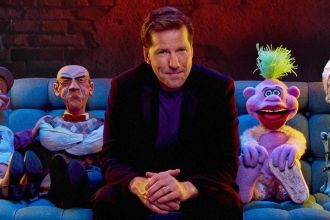 Jeff Dunham: Seriously!?
Jeff Dunham at Caesars Palace performs his show of a stand up comedian and ventriloquist with his popular puppets as co-stars on stage. You will enjoy the antics of his co-star puppets as they appear on stage with Jeff. Peanut, Little Jeff, Walter the Grumpy Retiree and Bubba. Fun for the whole family. All ages welcome.
Absinthe
at the Roman Plaza at Caesars Palace is comprised acts encompassing a variety show, circus acts, obtrusive comedy and a naughty cabaret. Close up action made for a more mature audience. You must be at least 18 years old to enter.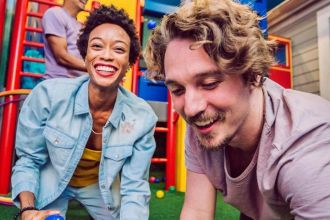 The Escape Game
is a challenging game where guests team up and follow the clues to solve from several adventures you choose for 60 minutes. Adventure themes you can choose from are Special Ops, Nashville Playground, Prison Break, The Heist, Mission Mars Ruins and Forbidden Treasure. Each adventure has its own difficulty level and unique environment.
Cleopatra's Barge has been a lively nightspot since it opened in 1970. What could be cooler than partying on this floating barge? When people get down on the dance floor it bobs around.
Spend an afternoon at Qua Baths & Spa. Now there are too many treatments on the menu for us to suggest just one, but what we love is that as part of your visit you'll have access to the idyllic Roman baths, a laconium room, a tea lounge with a tea sommelier (who knew that existed?) and an Arctic ice room where – we kid you not – it snows. (You'll thank us for sending you here during the 100-plus-degree summer months.)
Caesars Palace Casino Las Vegas Things To Do
Pools
VENUS POOL + LOUNGE, GARDEN OF THE GODS POOL OASIS
Nightlife
VANDERPUMP COCKTAIL GARDEN, OMNIA NIGHTCLUB, VISTA COCKTAIL LOUNGE, MONTECRISTO CIGAR BAR, ALTO BAR, SPANISH STEPS, NUMB BAR & FROZEN COCKTAILS, LOBBY BAR, CLEOPATRA'S BARGE
Shopping
THE FORUM SHOPS AT CAESARS PALACE, APPIAN WAY SHOPS, CAESARS FRAGRANCES
Salon
COLOR SALON BY MICHAEL BOYCHUCK

Caesars Palace Location
The Caesars Palace address is
3570 Las Vegas Blvd S, Las Vegas, NV 89109
Caesars Palace is located on the west side and center area of
the Las Vegas Boulevard between the Mirage And Bellagio.
As most people do when they come to Las Vegas, walking the Strip and enjoying the sights from casino to casino is a must part of your trip. Below is a convenient map of the Strip and distances to other casinos on the Strip from Caesars Palace.
Map Of The Strip With Caesars Palace Location
Walking Distance From Caesars Palace Casino Las Vegas To:
New York New York
26m
1.4
Caesars Palace offers a huge number of bars, restaurants and cuisines to satisfy any taste bud. The Bacchanal Buffet does for a Vegas buffet what The Forum Shops at Caesars did to shopping – it elevates the experience (and we're grateful for that). With a mind-blowing array of delectable dishes prepared by a team of chefs, you'll discover small plates with things like fried chicken and waffles, red velvet pancakes and mini Wagyu sliders.
Caesars Palace Casino Las Vegas Restaurants
Casual
BEIJING NOODLE NO. 9
American
PRONTO BY GIADA, MESA GRILL, SEARSUCKER LAS VEGAS, CAFE AMERICANO, STARBUCKS
Quick Bites
PRONTO BY GIADA, BRIOCHE BY GUY SAVOY, FORUM FOOD COURT, STARBUCKS
Casual
GORDON RAMSAY PUB & GRILL, SEARSUCKER LAS VEGAS, CAFE AMERICANO
Japanese
NOBU LAS VEGAS AT CAESARS PALACE
Chinese
BEIJING NOODLE NO. 9, MR CHOW
English
GORDON RAMSAY PUB & GRILL
French
RESTAURANT GUY SAVOY, BRIOCHE BY GUY SAVOY
Steakhouse
OLD HOMESTEAD STEAKHOUSE LAS VEGAS
Upscale
GORDON RAMSAY HELL'S KITCHEN, RESTAURANT GUY SAVOY, MESA GRILL, OLD HOMESTEAD STEAKHOUSE LAS VEGAS, RAO'S LAS VEGAS, MR CHOW, NOBU LAS VEGAS AT CAESARS PALACE
Caesars Palace Casino Las Vegas History
Caesars Palace is one of Las Vegas's best known landmarks. Caesars Palace was founded on August 5, 1966 to give guests a sense of life during the Roman Empire. The resort is covered in Roman type architecture, marble white columns and Roman era type statues. Caesars Palace is owned and operated by Caesars Entertainment. The hotel has 3,960 rooms and suites in six different towers.
The resort has a large number of restaurants and cuisines to choose from. Caesars Palace is oriented to high rollers with all your favorite table games, slot machines, video poker machines and a 24 hour poker room.
Caesars Palace has been a hub for top entertainers throughout the decades through today. The Colosseum theatre hosts many of the acts which seats 4,296 people.
In one of the most memorable moments in Las Vegas history, Evel Knievel attempted to jump the Caesars Palace fountains in a motorcycle but was unsuccessful. He severly injured himself and was in a coma for 29 days after his attempt. His son, Robbie, on April 14, 1989 successfully completed the jump.
In 1970, new owners laid the groundwork for the expansion of the hotel complex at Caesars Palace.
The Forum Shops at Caesars opened in 1992 as a main attraction as an extension wing of the main hotel and casino. Strategically placing one entrance to the high end shopping district on the Strip guaranteed a healthy flow of visitors. Another renovation was completed on October 22, 2004.
In June 2005, Harrah's Entertainment bought out Caesars Entertainment. In 2010 they changed the name to Caesars Entertainment.
Caesars Palace Casino Good To Know
Speaking of walking, make sure you valet park at the hotel's main entrance when you arrive to check-in because the distance from the parking garage to the registration desk feels like a hike to Rome.
Navigating the ground floor of Caesars Palace – considering everything the resort has to offer and its winding layout – is a challenge. Hopefully, you've been doing some endurance training… just kidding, but be prepared to walk a lot. And because this place is so big, expect waits during peak times for checking in or out as well as for staff to get to your room if you should need something cleaned or fixed.
Online Network of Professional Sports Tipsters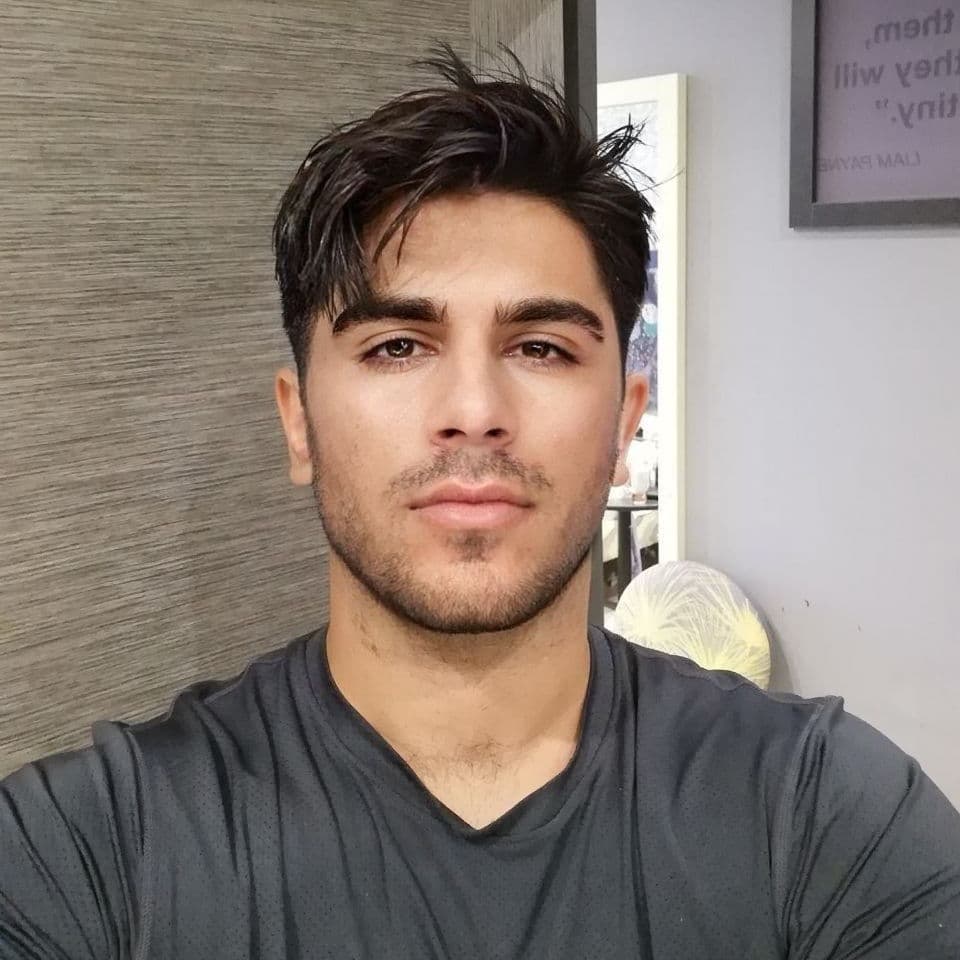 GAME SET & PROFIT
Your Expert Tennis Tipster

NHL BETTING MASTER
Your Expert US Sports Tipster

PREMIER GREYHOUND TIPS
Expert Dog Racing Tipster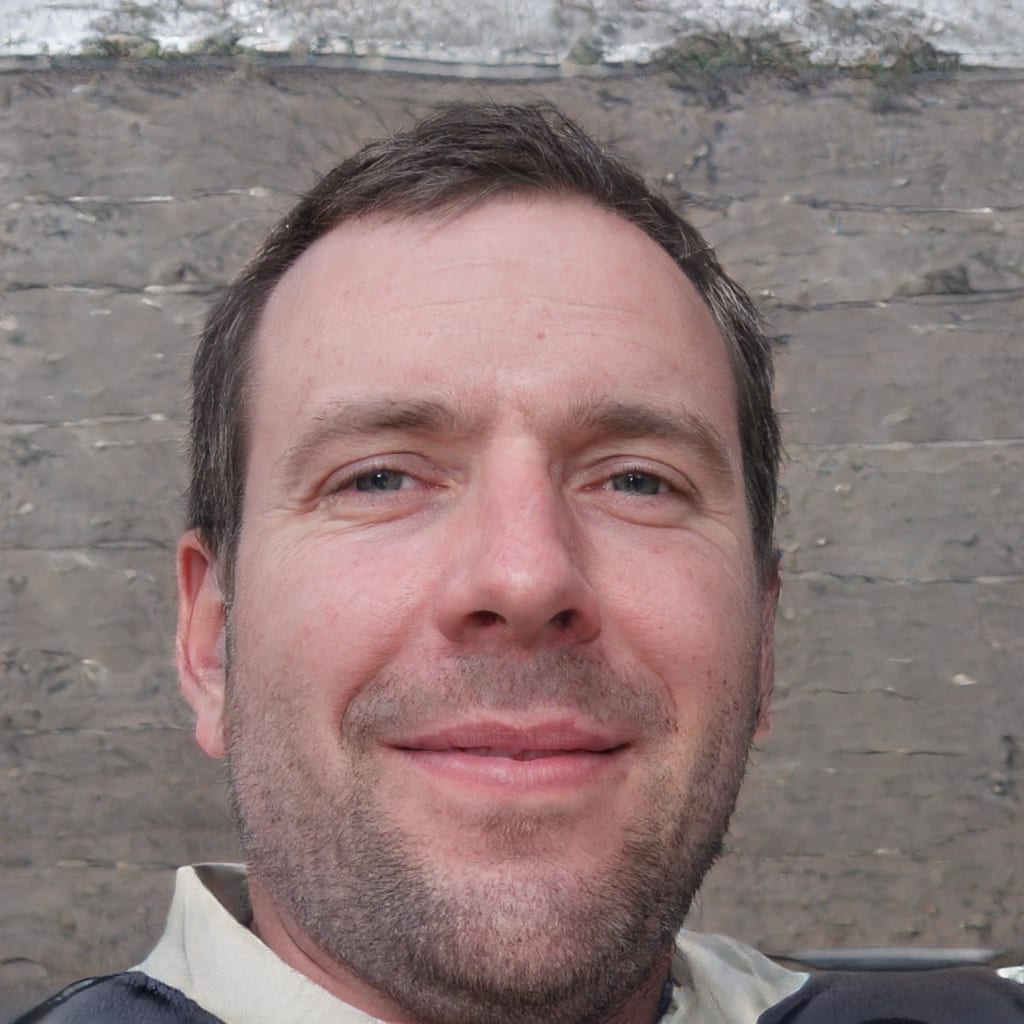 MASTER FOOTBALL TIPSTER
Your Expert Football Tipster

QUENTIN FRANKS RACING
Expert Horse Racing Tipster

RF RACING TIPS
Expert Horse Racing Tipster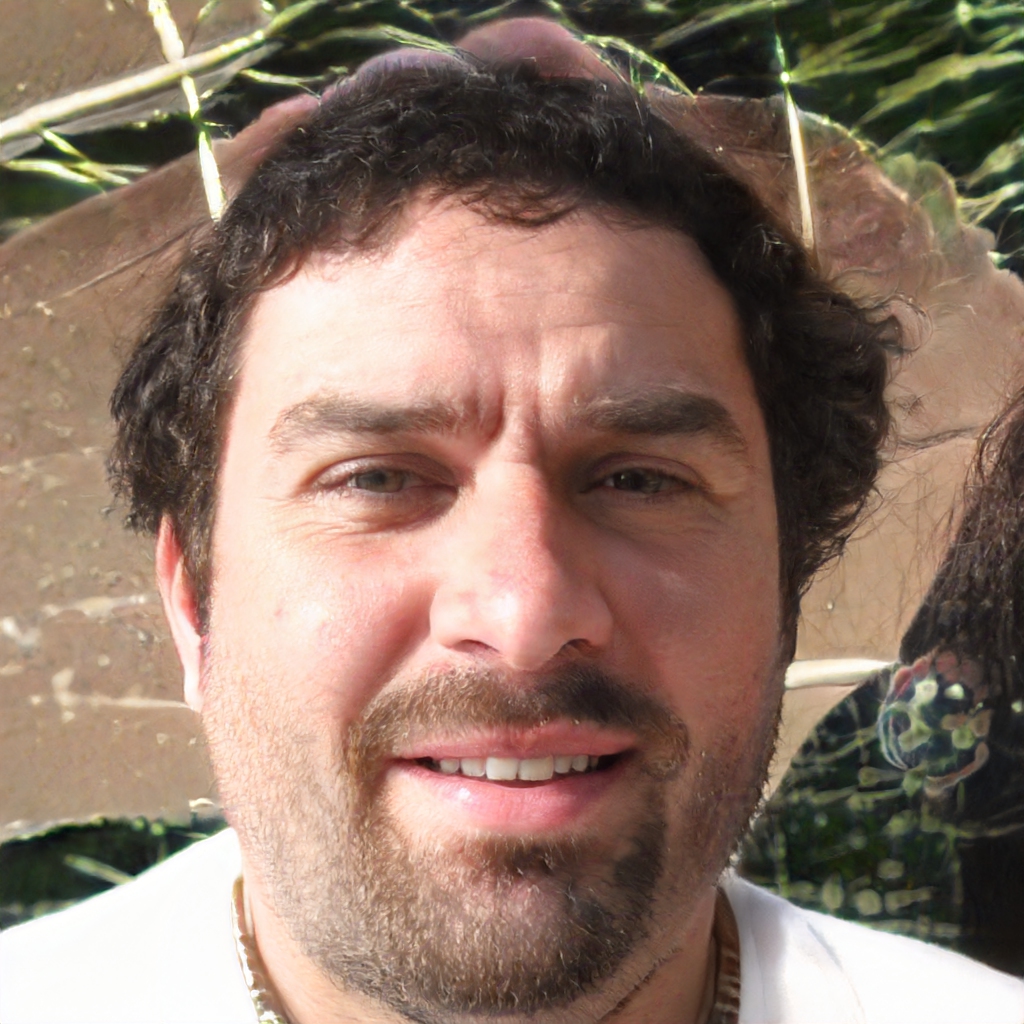 SUPER SPORTS CAPPER
Expert Mixed Sports Tipster
TEE AND SERVE TIPS
Expert Mixed Sports Tipster

THE BASKETBALL GEEK
Your Expert Basketball Tipster

THE BOOKIES ENEMY
Expert Horse Racing Tipster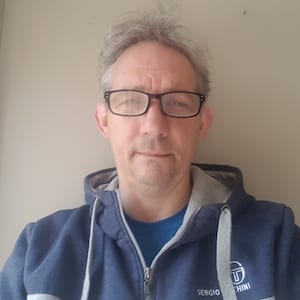 THE OUTSIDE EDGE
Expert Horse Racing Tipster

TOP FOOTBALL TIPSTER
Your Expert Football Tipster

US RACING EXPERT
Expert Horse Racing Tipster