Discovery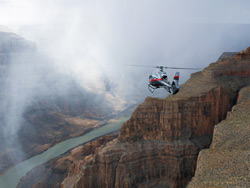 As one of the seven natural wonders of the world, the Grand Canyon is awe-inspiring from any vantage point. With the Discovery Tour, you'll be able to take in the canyon from as many of those gorgeous spots as possible.
Begin your tour at Grand Canyon West that is owned by the local Hualapai Tribe and features multiple viewpoints, restaurants, a cultural center and the glass-bottomed Skywalk.
From there, take to the skies in a helicopter for a breathtaking birds-eye view before dropping down to an exclusive landing spot that overlooks the mighty Colorado River.
Experience an unforgettable adventure and book a Discovery Helicopter Tour today.
Discovery Adventure
After reserving and making preparations for your Discovery adventure, you will be notified of where to go to be transported to take in scenic views of the Colorado River and then to the Grand Canyon West Rim.