Massive MGM Grand Hotel Vegas Review
Massive MGM Grand Hotel Vegas Review
If you could stuff all of Vegas under one roof, MGM Grand is big enough to accommodate that. Infinitesimally large, diverse offerings to satisfy every type of visitor. You don't have to leave the hotel to experience many of the "bests" of Vegas. The MGM Grand Vegas is an upscale 4 star hotel and casino that opened on the Las Vegas Strip in 1993 and is the third largest single hotel in the World with 6,582 rooms. The MGM Grand features over 2 dozen fine restaurants, several live entertainment shows, huge pool complex, golf, large casino gaming floor, tropical inspired pools, full service spa, acres of shopping and excellent live entertainment.
The huge 5 pool complex has rivers, waterfalls, caves, hot tubs and palm trees. Around 2 dozen dining options are available from celebrity chef fine dining restaurants and a fast food establishments. The 171,500 square foot casino is one of the largest casinos in Las Vegas with more than 2,500 gaming machines and 139 poker and table games. Top entertainment choices are at MGM Grand from major boxing matches, concerts, Cirque du Soleil, Brad Garretts Comedy Club, David Copperfield, Jabbowockeez and more.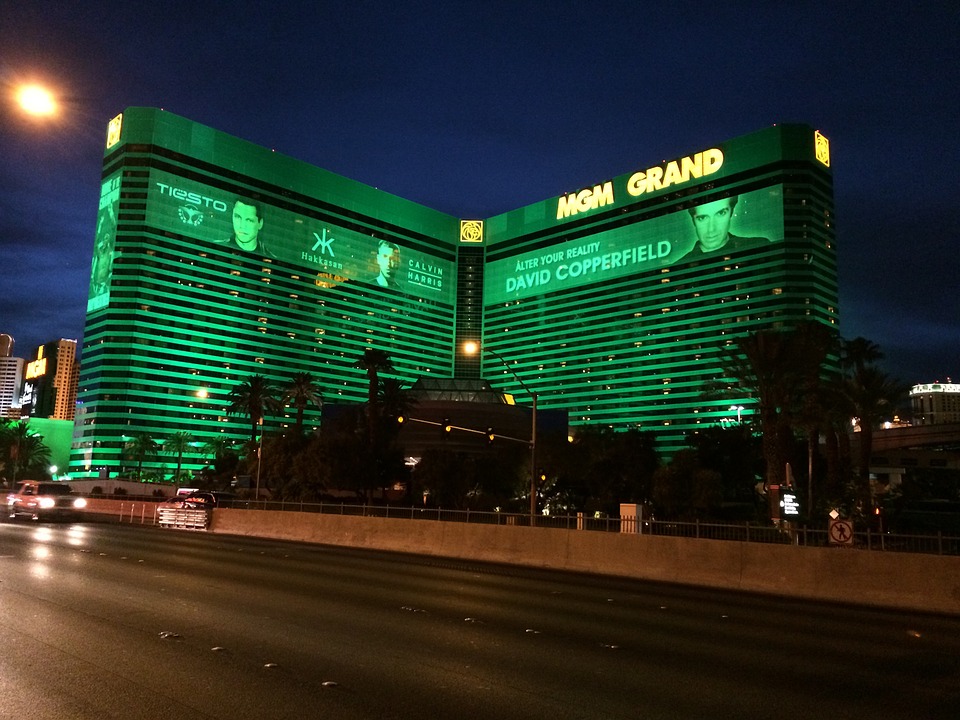 Start Your Stay In Las Vegas By Booking Your Room At The MGM Grand Hotel and Casino
⇩ ⇩ ⇩ ⇩ ⇩ ⇩ ⇩ ⇩
Book Your MGM Grand Room Now
Best Price Guarantee
Click Here For Details At Vegas.com
Note:
What is there to do at MGM Grand?: Help solve crime at the interactive CSI: The Experience, or may the odds be ever in your favor in The Hunger Games: The Exhibition.
Reserve Your Tickets For Shows At The MGM Grand Hotel and Casino
⇩ ⇩ ⇩ ⇩ ⇩ ⇩ ⇩ ⇩
Entertainment at MGM Grand Casino and Hotel
KÀ by Cirque du Soleil
Check Rates and Book Your KÀ by Cirque du Soleil Tickets Now
Brad Garrett's Comedy Club
Best known for his role on the Emmy award-winning sitcom Everybody Loves Raymond
Check Rates and Book Your Brad Garrett's Comedy Club Tickets Now
MGM Grand Hotel Las Vegas Things To Do
Nightclubs & Bars
Level Up, Whiskey Down, Losers Bar, Centrifuge, Lobby Bar, Hakkasan Nightclub, MGM Resorts Nightlife
Golf
Topgolf, Four Championship Courses
Pools
Wet Republic Ultra Pool, Grand Pool Complex, Vegas Cabanas
Spas & Fitness
Grand Salon, Grand Spa & Fitness Center, The Barbershop at MGM Grand
Shopping
Amereica, Below The Knee, Black Clover, CBS Television City, Essentials, Front Page Newsstand, Grand & Company, Grand Express, Jabbwockeex Store, KÀ Boutique, Las Vegas Harley Davidson, Misura, Nectar Bath Treats, Optica, Pandora, Paradiso, Quicksilver, Reviv, Rocks The Jewelers, Spirits & Co, The Art Of Music, The Beauty Shop, Welcome To Las Vegas, West Wing Boutique
MGM Grand Hotel Vegas Location
The MGM Grand address is
3799 Las Vegas Blvd S, Las Vegas, NV 89109
The MGM Grand is located on the east side south end of
the Las Vegas Boulevard across the street from the New York New York Casino
Note:
As most people do when they come to Las Vegas, walking the Strip and enjoying the sights from casino to casino is a must part of your trip. Below is a convenient map of the Strip and distances to other casinos on the Strip from MGM Grand.
Map Of The Strip With MGM Grand Location
Walking Distance From MGM Grand To:
Note:
MGM Grand is home to some of the world's top restaurants along with a stable of celebrity chefs. (Anyone heard of Wolfgang Puck, Tom Colicchio and Emeril Lagasse?) 
MGM Grand Restaurants
American
Wolfgang Puck Bar & Grill, Starbucks, Subway, Cabana Grill, MGM Buffet, West End Market
Breakfast & Lunch
Avenue Café
Cosmopolitan Plates
Crush
Desserts
Blizz Frozen Yogurt & Desserts
Greek & Mediterranean
Greek Sneek
World Cuisine
International Smoke
Mexican
Blue Iguana Mexican, Hecho En Vegas
MGM Grand Hotel Vegas History
The MGM Grand opened December 18, 1993 with a Wizard of Oz theme. An extensive refurbishment occurred in 1996 the Oz theme was the first to go. Originally there was the MGM Grand Adventures Theme Park behind the casino to make the Las Vegas Strip more family friendly. The theme park performed poorly and did not reopen for the 2001 season.
The MGM's original entrance consisted of a giant lion's head where you walked through the mouth of the lion. It was later changed in 1996 to what it is today, a golden looking lion statue above the entrance, because many Chinese patrons found it bad luck to walk through the jaws of a lion and avoided the hotel.
In 2006 the MGM was redeveloped as a luxury condominium and hotel complex called The Signature at MGM Grand. In June 2017, MGM Resorts International expanded the resort's convention conference center. In January 2020, MGM Resorts announced that it would sell the resort to a joint venture.
Start Your Stay In Las Vegas By Booking Your Room At The MGM Grand Hotel and Casino
⇩ ⇩ ⇩ ⇩ ⇩ ⇩ ⇩ ⇩
Book Your MGM Grand Room Now
Best Price Guarantee
Click Here For Details At Vegas.com
MGM Grand Good To Know
The best way to avoid the long taxi line – which can stretch around the porte cochere on a busy night – is to take the Las Vegas Monorail. A reality about staying at MGM Grand is that you'll do a lot of walking. You could easily rack up several miles on your Fitbit each day just by going from your room to the pool, restaurants and bars. (For those among us who are more lethargic, this may be the one time you request a room near the elevator bank.) Keep in mind every hotel room is non-smoking. Don't risk it – that's a pricey cleaning fee at checkout. Save yourself the trouble and smoke in designated areas only.