South Point Casino And Hotel
South Point Hotel and Casino Review
Located south of the Strip, 7.19 miles from the Strip, hence the name South Point 4 star, 2,163 room hotel has tournament-caliber equestrian and bowling centers — and it's a champion among bargain hunters with affordable rooms, a Steak 'n Shake and a movie theater.
The vibe: Off-the-beaten path, a horse lover's dream, a penny pincher's paradise What we love: Hey horse aficionados…you'll be right at home in the South Point, which is known for its Equestrian Center. An arena with 4,600 seats and 1,200 climate-controlled horse stalls, perhaps the coolest thing about attending an event — ranging from every kind of rodeo competition to gun shows and hoops tournaments — is grabbing an ice cold beer from the Saturday Night Bar, which overlooks all the action.
There's no better place to drop some pins than the South Point. Play a game in the 64-lane bowling center or if you'd rather watch professionals, check out the South Point Bowling Plaza. Opened in 2014, it has two 30-lane competition floors and a 360-seat viewing area, both of which provide the perfect backdrop for the USBC Open Championships and Women's Championships.
A throwback restaurant, Michael's Gourmet Room has a stained glass dome and plush red décor. Originally located in the bygone Barbary Coast, it's been a Vegas icon for more than 20 years. Of course, having dinner here will be expensive (with a capital "E"), but one bite of the perfectly prepared and presented filet mignon and sirloin steak and you won't give a damn.
Insider tips: If you don't have a car with you at the South Point, take advantage of the shuttles. The resort fee actually includes shuttle service to and from the airport (be sure to make reservations 24 hours in advance).  Whether you're a cowboy or just one at heart, get a photo with the giant bronze statue of local gaming maverick Benny Binion on horseback. You'll find it near the entry to the Equestrian Center. It's a great tribute to the man who helped bring the National Finals Rodeo to Vegas and created the World Series of Poker.
If you're an alley cat in search of some cheap action, take advantage of the graveyard special at the South Point's bowling center. As long as you can stay up until the wee hours (that's from midnight to 8 a.m. every Sunday through Thursday), you can play for $1.
East Coasters know all about Steak 'n Shake's classic "steakburgers." The South Point is home to the only location in Las Vegas…so go find out what all the fuss is about.
Good to know: We want to be clear about where the South Point is located. It's not within walking distance to the Strip. It sits at the outlying southern end of Las Vegas Boulevard approximately five miles (that's a 10-minute drive) from the Welcome to Fabulous to Las Vegas sign. The South Point is a great base if you want to be close to the action but not right in the middle of it. And if you plan to explore the greater Las Vegas valley, it's near both Interstate 15 and 215.  
All of South Point's guest rooms have been completely renovated and have wood flooring as well as mini refrigerators. You will also find the spacious 500-square foot rooms have other amenities (like Serta mattresses, Keurig coffeemakers, safes and 42-inch flat-screen TVs) that make a difference. The South Point isn't as huge as the megaresorts on the Strip, but you'll still have to cover a fair distance (this includes crossing the casino floor) to get from the self-parking garage or the parking lot to the room elevators. Reopening date: June 4, 2020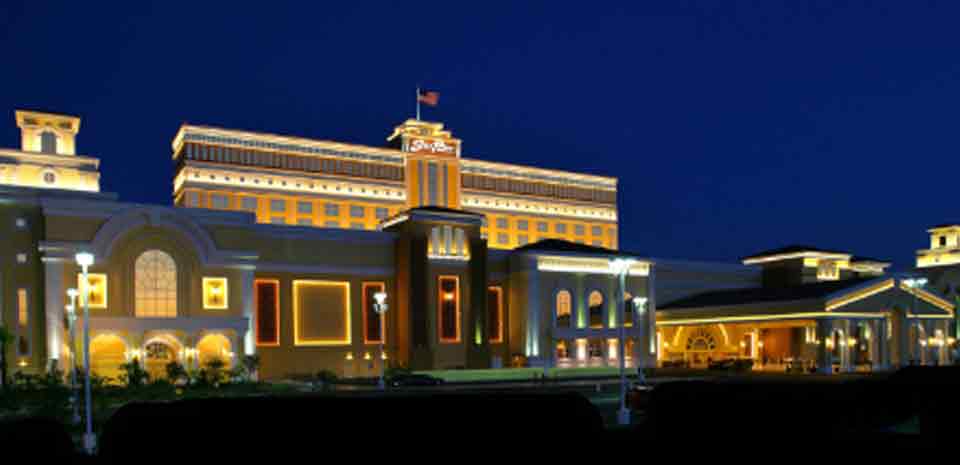 Start Your Stay In Las Vegas By Booking Your Room At The South Point Hotel and Casino
⇩ ⇩ ⇩ ⇩ ⇩ ⇩ ⇩ ⇩
Book Your South Point & Casino Room Now
Best Price Guarantee
Click Here For Details At Vegas.com
South Point Casino And Hotel Location
The South Point Casino And Hotel address is
9777 S Las Vegas Blvd, Las Vegas, NV 89183
South Point Casino And Hotel is located 5.6 miles south of Mandalay Bay
on the Strip on the west side of Las Vegas Blvd.
Map and Location For South Point Casino And Hotel
The South Point Hotel and Casino Nearby Places of Interest
Location
Distance Form The Plaza Hotel and Casino
City Center Las Vegas
6.69 miles
Crystal Shopping Center
6.73 miles
T-Mobile Arena
6.39 miles
Miracle Mile Shops at Planet Hollywood
6.86 miles
Bellagio Fountains
7.07 miles
Bellagio Conservatory and Botanical Gardens
7.02 miles
Colosseum at Caesars Palace
7.43 miles
Forum Shops At Caesars Palace
7.43 miles
Gondola Ride at The Venetian
7.74 miles
South Point Hotel and Casino Features
The casino is 137,232 square feet with an 80,000 square feet casino which included over 2,400 slot machines, 60 table games, 600 seat bingo room and separate race and sports book areas.
The hotel stands 25 stories tall with 2,163 rooms.
The facility also has a 16 screen Century Theatre attraction.
The resort includes an equestrian facility which includes 4,400 seats and 1,600 horse stalls and hosts up to 40 horse events each year. Many rodeo western events also occur here plus concerts, boxing matches, college basketball tournaments and Mecum auctions.
For the bowler, there is a 64 lane bowling alley on the second floor of the Priefert Pavilion. Plus the property includes the Tournament Bowling Plaza which hosts world, national and regional bowling tournaments throughout the year.
Several popular restaurants are at South Point including a huge buffet plus a popular hot dog cart.
There is also a 400-seat showroom highlighting major entertainers performing throughout the year.
South Point Hotel and Casino History
The property South Point sits on was originally call South Coast owned by Coast Casinos founder, Michael Gaughan. It included a 137,232 square foot casino with a 25-story hotel with 2,163 rooms.
Coast Casinos merged with Boyd Gaming and announced the future South Coast project. At a cost of $625 million, the South Coast casino and hotel was opened on December 22, 2005 which included and 80,000 square foot casino and hotel with 652 rooms. A second hotel was built in 2006.
Michael Gaughan took over ownership of the property in October 2006 and renamed it to South Point. A third hotel tower was opened in 2008. Major expansions continued in 2010 with new restaurants and more casino space. The hotel and casino also includes an equestrian events center, bowling alley, championship bowling center. South Point is also the sponsor of the South Point 400 stock car race.
Start Your Stay In Las Vegas By Booking Your Room At The South Point Hotel and Casino
⇩ ⇩ ⇩ ⇩ ⇩ ⇩ ⇩ ⇩
Book Your South Point & Casino Room Now
Best Price Guarantee
Click Here For Details At Vegas.com