Essentials Shopping at the Bellagio in Las Vegas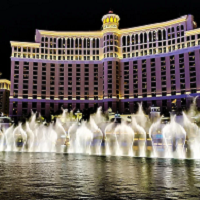 Essentials is a must-visit shopping destination located within the luxurious Bellagio Hotel in Las Vegas. This unique boutique offers a carefully curated selection of high-end fashion and accessories, perfect for those who appreciate luxury and exclusivity.
Upon entering Essentials, visitors are immediately greeted by a stunning array of designer clothing and accessories from some of the most sought-after brands in the world. The store is designed with a modern and sophisticated aesthetic, creating an elegant and inviting atmosphere for shoppers.

One of the standout features of Essentials is its impressive collection of designer handbags, featuring iconic styles from designers such as Chanel, Gucci, and Louis Vuitton. These handbags are truly one-of-a-kind pieces that make a statement and are sure to turn heads wherever you go.
In addition to handbags, Essentials also offers an extensive selection of jewelry and accessories from renowned designers. From delicate necklaces and earrings to bold statement pieces, there is something for everyone in this exquisite collection. The store's expert staff is also on hand to provide personalized styling advice and recommendations to ensure that each customer finds the perfect piece to complement their personal style.
Essentials also boasts a wide range of high-end fashion brands, including Alexander McQueen, Dolce & Gabbana, and Valentino. These collections feature the latest in fashion trends and styles, ensuring that shoppers always have access to the hottest looks of the season.
The store's commitment to luxury and exclusivity is evident in its limited edition and rare pieces. For those looking for something truly unique, Essentials offers a selection of limited edition designer items that are sure to impress. These exclusive pieces are perfect for those who want to stand out from the crowd and make a statement with their fashion choices.
But the exceptional shopping experience at Essentials goes beyond just the products themselves. The store's knowledgeable and friendly staff is always on hand to provide personalized service and assistance to customers, ensuring that every shopper feels welcomed and valued.
The staff is also able to offer expert advice on everything from styling tips to product care, ensuring that each customer leaves the store feeling confident in their purchase. Whether you're a seasoned fashionista or simply looking for a special piece to add to your wardrobe, the staff at Essentials is dedicated to making your shopping experience a memorable one.
Another great feature of Essentials is its convenient location within the Bellagio Hotel. The store is easily accessible from the main lobby, making it a perfect destination for those looking to indulge in a bit of luxury shopping during their stay in Las Vegas.
In addition to its prime location, the store also offers a variety of convenient services, including complimentary gift wrapping and shipping to anywhere in the world. These services make it easy for customers to shop for gifts or souvenirs for loved ones, without the hassle of packing or shipping the items themselves.
Overall, Essentials is a standout shopping destination within the Bellagio Hotel in Las Vegas. With its carefully curated selection of high-end fashion and accessories, expert staff, and convenient location, it offers a truly exceptional shopping experience for those who appreciate luxury and exclusivity. Whether you're looking for a unique designer piece or simply want to indulge in a bit of luxury shopping during your stay in Las Vegas, Essentials is definitely worth a visit.