Garden Of The Gods Pool Oasis At Caesars Palace In Las Vegas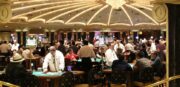 If you're looking for the ultimate pool experience in Las Vegas, look no further than the Garden of the Gods Pool Oasis at Caesars Palace. This stunning outdoor venue boasts a variety of pools, cabanas, and lounges that offer something for everyone, whether you're looking to relax in the sun, swim laps, or enjoy a refreshing cocktail with friends.
The Garden of the Gods Pool Oasis is divided into seven distinct pools, each with its own unique design and atmosphere. These pools include the Apollo Pool, which features a swim-up blackjack table and plenty of space to relax in the sun, and the Temple Pool, which boasts stunning Roman-style architecture and a gorgeous fountain. Other pools include the Neptune Pool, which is known for its stunning mosaics and statues, and the Fortuna Pool, which offers a more intimate and secluded experience.

In addition to its beautiful pools, the Garden of the Gods Pool Oasis offers a range of amenities that make it stand out among other pool venues in Las Vegas. The cabanas are some of the most luxurious in the city, with features like flat-screen TVs, private bathrooms, and even private plunge pools in some cases. The lounges are equally impressive, with plush seating, stunning views, and plenty of shade for those hot Vegas afternoons.
Food and drinks are also a major highlight of the Garden of the Gods Pool Oasis experience. The venue offers a range of delicious food and drink options, including creative cocktails, refreshing smoothies, and small plates and appetizers. There are also plenty of heartier options like burgers and salads for those looking for something more substantial. And if you're in the mood to celebrate, the pool club offers bottle service and other VIP packages that are sure to make your day unforgettable.
Perhaps the most impressive thing about the Garden of the Gods Pool Oasis, however, is its attention to detail. From the stunning architecture to the meticulous landscaping, every aspect of this venue is designed to transport you to another world. Whether you're relaxing in a cabana or lounging by the pool, you'll feel as though you've been transported to an ancient paradise.
Overall, the Garden of the Gods Pool Oasis at Caesars Palace is a truly exceptional destination that offers the ultimate in poolside luxury and relaxation. With its beautiful pools, luxurious cabanas, and world-class food and drink options, this venue is a must-visit for anyone looking to experience the best of Las Vegas. So why wait? Plan your visit to the Garden of the Gods Pool Oasis today and see for yourself why it's one of the most beloved pool clubs in the city.