Le Cirque Restaurant at the Bellagio in Las Vegas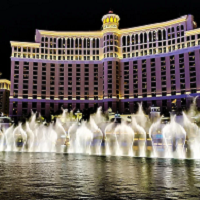 If you're looking for a luxurious and unforgettable dining experience in Las Vegas, look no further than Le Cirque at the Bellagio. From the moment you step into the restaurant, you'll feel transported to a world of elegance and sophistication.
Le Cirque is situated in a prime location at the Bellagio, overlooking the iconic Fountains of Bellagio. The restaurant boasts floor-to-ceiling windows, providing diners with an unparalleled view of the water show while enjoying their meal. The interior of the restaurant is just as impressive, with a modern, yet classic decor featuring rich wood paneling and chic lighting fixtures.

But of course, the real star of the show at Le Cirque is the food. The restaurant offers a French-inspired menu, with an emphasis on fresh, high-quality ingredients and exquisite presentation. Each dish is a work of art, beautifully crafted with a focus on texture, flavor, and balance.
Start your meal off with one of Le Cirque's signature appetizers, such as the foie gras torchon or the yellowfin tuna tartare. Both dishes are expertly prepared and bursting with flavor. The restaurant also offers a variety of fresh seafood options, such as the Maine lobster salad or the wild-caught branzino, which are sure to satisfy any seafood lover's cravings.
For the main course, diners can choose from a selection of expertly prepared meats and poultry, including the succulent roasted chicken and the perfectly cooked filet mignon. Vegetarians will also be delighted with the restaurant's selection of vegetarian and vegan options, such as the truffle risotto and the artichoke and black truffle tortellini.
No fine dining experience would be complete without an impressive wine list, and Le Cirque certainly delivers in this regard. The restaurant's extensive wine selection features a range of both domestic and international wines, curated to pair perfectly with the menu's dishes. The knowledgeable and friendly staff at Le Cirque are always happy to make recommendations and guide diners through the wine list.
But perhaps the most impressive aspect of Le Cirque is the restaurant's exceptional service. From the moment you arrive, you'll be greeted by a friendly and attentive staff who are dedicated to ensuring that your dining experience is nothing short of perfect. The waitstaff at Le Cirque are highly trained professionals who take pride in providing personalized service to each and every diner.
Overall, dining at Le Cirque at the Bellagio is a truly unforgettable experience. The combination of stunning views, impeccable service, and exquisite cuisine make it one of the best fine dining establishments in Las Vegas. Whether you're celebrating a special occasion or simply looking for an indulgent night out, Le Cirque is sure to exceed your expectations.