Skywalk Odyssey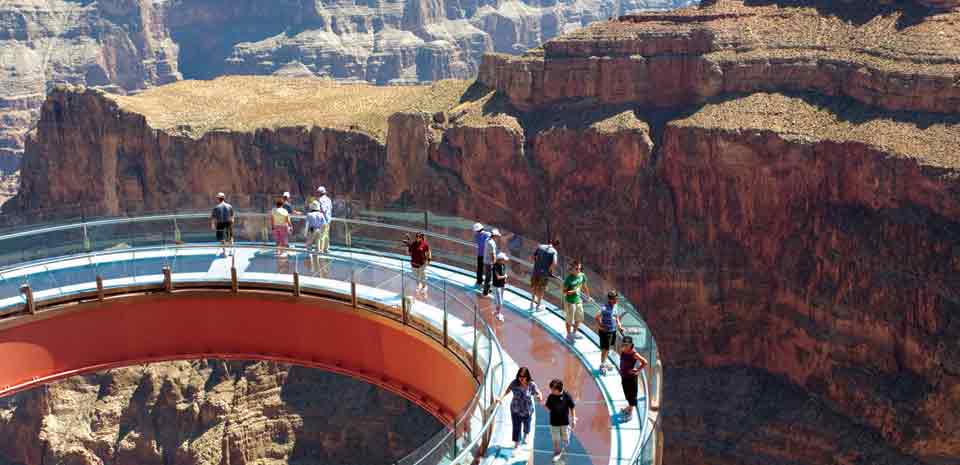 Guests who may not feel well or have symptoms of Covid-19 to contact Maverick prior to your flight. All guests will be screened for a mandatory temperature check prior to entrance into the flight terminal. Guests with a temperature above 100.4 will have a secondary screening and may be refused service based on health factors. All guests are required to wear face protection. We ask all guests to limit personal belongings and bags coming into the terminal and on flights.
Depart the famed Las Vegas Strip on your direct helicopter flight to the Grand Canyon Skywalk. On your flight, experience a bird's-eye view of the Grand Canyon, Lake Las Vegas, Lake Mead, Hoover Dam and the Las Vegas Strip. Upon landing, get ready to witness a true engineering marvel, the Grand Canyon's Skywalk.
The Skywalk suspends more than 4,000 feet above the Colorado River, extending more than 70 feet away from the edge of the West Rim. The SkyWalk features a glass bottom walking surface, allowing you to witness the splendor at every angle.  Upon landing, you'll be transported by a private vehicle to the Skywalk bridge.
You'll receive a front-of-the-line pass, so there will be little or no delay. After approximately 30 minutes of exploring the Skywalk, you'll be taken to your helicopter back to Las Vegas. Please note that given the nature of this excursion, there won't be ample time to experience the other aspects of Grand Canyon's West Rim. These include Guano Point, a meal service and the Western Ranch. This tour is tailored for those who just wish to fly to the Grand Canyon, land at the top and experience the Skywalk.
Skywalk Odyssey Location
After reserving and making preparations for your adventure, you will be notified of pickup location and then fly a helicopter to the Skywalk Odyssey at the Grand Canyon.
Map Location Of Skywalk Odyssey