THE JETS 80s & 90s Experience!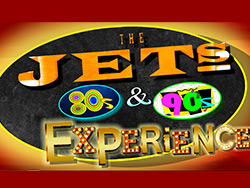 We can all agree that the '80s and '90s were good times, and if you don't agree, maybe we should revisit your aptitude for identifying good music.
THE JETS, Grammy-nominated group and family band, is taking us back in time with hits like "Crush on You," "You Got It All" and "Make it Real." And the best part is, this concert is fun for the whole family.  Part of the legendary "Minneapolis Sound," THE JETS joined the likes of Prince, Janet Jackson and Sheila E., pumping out eight top 10 hits and three platinum albums.
Their 1988 song "Rocket 2 U" was nominated for a Grammy. Now, let's relive your permed hair and acid-wash jeans. Get ready to jam out with the original members of THE JETS – Rudy, Haini and LeRoy, inside the V Theatre Upstairs Showroom at Planet Hollywood!  
THE JETS 80s & 90s Experience! Location
The THE JETS 80s & 90s Experience! address is
3667 Las Vegas Boulevard South 89109
Planet Hollywood is located on the east side and southern area
of the Las Vegas Boulevard between the MGM and Paris.
Map Location Of Planet Hollywood