Things To Do At The Circa Resort And Casino In Las Vegas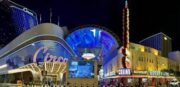 If you're planning a trip to Las Vegas and looking for a hotel and casino that offers endless entertainment options, the Circa Resort and Casino should be at the top of your list. Here are just a few of the many things you can do at this incredible resort:

Play Your Favorite Casino Games

The Circa Resort and Casino boasts a massive 135,000 square feet of gaming space, making it one of the largest casinos in Las Vegas. Here, you'll find everything from classic table games like blackjack, roulette, and craps to the latest slot machines and video poker games.

Check Out the High-Limit Gaming Area

If you're a high-roller looking for an exclusive gaming experience, head to the high-limit gaming area at Circa. This luxurious section of the casino features high-stakes table games, VIP services, and a sophisticated atmosphere that will make you feel like a true Vegas VIP.

Place Your Bets at the Sportsbook

For sports fans, the Circa Sportsbook is a must-visit destination. This massive sports betting area features state-of-the-art technology and a range of betting options, making it the perfect place to watch the game and place your bets.

Enjoy Delicious Food and Drinks

Circa Resort and Casino is home to a range of dining options, from casual eateries to high-end restaurants. For casual dining, head to Victory Burger & Wings Co. for classic American fare or Saginaw's Delicatessen for authentic Jewish deli sandwiches. For something more upscale, make a reservation at Barry's Downtown Prime, a modern steakhouse with a vintage Vegas vibe.

Grab a Drink at the Bars and Lounges

Whether you're looking for a quiet spot to enjoy a craft cocktail or a lively bar with a buzzing atmosphere, Circa has you covered. Visit Vegas Vickie's for a neon-lit bar experience inspired by a Las Vegas icon, or head to Circa Bar for creative cocktails and stunning views of the resort's rooftop pool.

Lounge by the Rooftop Pool

The rooftop pool at Circa is one of the most impressive features of the resort, offering stunning views of downtown Las Vegas and a range of amenities. Lounge on one of the many poolside chairs or cabanas, take a dip in the pool, or enjoy a drink and bite to eat from one of the rooftop bars.

Visit the Stadium Swim

For an even more impressive pool experience, head to the Stadium Swim, an outdoor pool amphitheater that features a 143-foot screen and a massive video wall. Here, you can watch the game, swim, and enjoy drinks and food from one of the multiple bars and restaurants.

Relax at the Spa

After a long day of gaming, dining, and exploring, there's no better way to unwind than with a trip to the spa. The Circa Spa offers a range of services, including massages, facials, and body treatments, as well as a full-service salon for all your hair and beauty needs.

Check Out the Vintage Vegas Decor

Circa Resort and Casino combines elements of classic Vegas with a modern edge, creating a unique atmosphere that is both nostalgic and cutting-edge. Take a stroll around the resort and admire the vintage Vegas decor, including neon signs, retro artwork, and other iconic Vegas touches.

Explore Downtown Las Vegas

Circa Resort and Casino is located in the heart of downtown Las Vegas, just steps away from some of the city's most iconic attractions. Take a stroll down Fremont Street and check out the dazzling light show, visit the nearby Mob Museum for a glimpse into Vegas' notorious past, or explore the many shops, restaurants, and bars that dot the area.

In conclusion, the Circa Resort and Casino is a must-visit destination for anyone looking for a truly unforgettable Las Vegas experience. From the massive gaming floor and exclusive high-limit gaming area to the rooftop pool and Stadium Swim, there are endless entertainment options to keep you busy day and night. And when you need a break from the action, the Circa Spa and range of dining options offer the perfect respite.

Whether you're a seasoned Vegas veteran or a first-time visitor, the Circa Resort and Casino is sure to impress. So why wait? Book your stay today and start planning your ultimate Las Vegas adventure. With so many things to do at Circa, you'll never run out of things to explore and experience.