Do any of the major hotels in Las Vegas offer free breakfasts?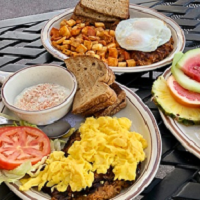 While many hotels in Las Vegas offer a variety of dining options, it's rare to find one that offers free breakfast. Most hotels on the Las Vegas Strip, including the major resorts, charge for breakfast either as part of a package or as an additional cost.

However, there are a few hotels that offer complimentary breakfast for their guests. These hotels are typically off the Strip and cater to budget-conscious travelers or those looking for a more relaxed atmosphere.


One hotel that offers a free breakfast is the Gold Coast Hotel and Casino, located just off the Las Vegas Strip. The hotel's free breakfast buffet includes a variety of hot and cold items, including eggs, bacon, sausage, pastries, cereal, and fresh fruit. Guests can also choose to upgrade to a full breakfast menu at an additional cost.

Another option for free breakfast is the Best Western Plus Casino Royale, located on the Las Vegas Strip. While the hotel itself does not offer a complimentary breakfast, guests can take advantage of a free continental breakfast voucher that is provided upon check-in. The voucher can be redeemed at a nearby Denny's restaurant and includes options like pancakes, eggs, and bacon.

The La Quinta Inn & Suites Las Vegas Tropicana is another hotel that offers a complimentary breakfast for its guests. The hotel's breakfast buffet includes items like waffles, eggs, sausage, oatmeal, yogurt, and fresh fruit. The hotel also offers a free shuttle service to the Las Vegas Strip, making it a convenient option for travelers.

Additionally, some hotels may offer free breakfast for guests who book a certain type of room or as part of a package deal. It's always a good idea to check with the hotel directly or read through their website to see if they offer any breakfast options.

If having a free breakfast is a priority for your Las Vegas trip, consider staying at one of the above hotels or searching for hotels off the Strip that offer complimentary breakfasts. However, it's important to keep in mind that Las Vegas is known for its world-class dining options and many visitors choose to explore the various restaurants and cafes on and off the Strip during their stay.

Overall, while free breakfast is not a common amenity at most major hotels on the Las Vegas Strip, there are a few options available for those looking to save some money on their trip. As with any hotel amenity, it's always a good idea to do your research ahead of time and read through the hotel's website or contact them directly to ensure that you know what to expect during your stay.