Harry Winston Shopping at the Bellagio in Las Vegas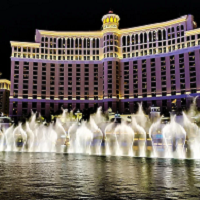 When it comes to luxury jewelry and timepieces, few names are as well-known and respected as Harry Winston. The brand has been dazzling customers for over 90 years, and its location at the Bellagio in Las Vegas is no exception. If you're looking for a truly special shopping experience, a visit to Harry Winston is a must.
From the moment you step inside, you'll be greeted with a warm welcome from the knowledgeable and attentive staff. They're more than happy to answer any questions you may have about the brand or the products available, and they'll go out of their way to make you feel comfortable and valued as a customer.

The showroom itself is stunning, with gleaming display cases showcasing some of the most exquisite and valuable jewelry and timepieces in the world. Whether you're in the market for a diamond necklace, a stunning bracelet, or a statement watch, Harry Winston has something to suit your taste and budget.
One of the standout features of the Harry Winston shopping experience is the customization options available. The brand is famous for its bespoke jewelry, which allows customers to work with the team of expert craftsmen to create a piece that is truly unique and tailored to their preferences. Whether you have a specific design in mind or need some guidance from the team, they'll work with you every step of the way to ensure your vision is realized.
Of course, for those who prefer to choose from a selection of already-designed pieces, there is no shortage of stunning options. The diamonds and other precious gems used by Harry Winston are of the highest quality, and the attention to detail in each piece is unparalleled. From classic designs to more contemporary pieces, there is something for everyone at Harry Winston.
In addition to its impressive selection of jewelry and timepieces, Harry Winston also offers excellent customer service. The staff is knowledgeable about the brand's history, design philosophy, and materials used, and they're more than happy to share their expertise with customers. Whether you're a seasoned jewelry collector or a first-time buyer, you'll feel comfortable and confident in your purchase thanks to the staff's expertise.
Another benefit of shopping at Harry Winston is the brand's commitment to ethical and sustainable sourcing. The company has made a commitment to source its diamonds and other precious materials in a responsible and sustainable way, ensuring that both the environment and the workers involved in the production process are treated fairly.
Overall, a visit to Harry Winston at the Bellagio in Las Vegas is a truly unforgettable experience. From the stunning showroom to the attentive staff and exceptional customer service, every aspect of the shopping experience is designed to make you feel special and valued as a customer. And with a selection of some of the world's most beautiful and valuable jewelry and timepieces, there's no better place to indulge in a little luxury shopping.