Mandalay Bay Tram In Las Vegas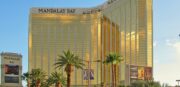 The Mandalay Bay Tram in Las Vegas is a convenient and efficient way to travel between the Mandalay Bay, Luxor, and Excalibur hotels. It offers a quick and easy way to move around the Las Vegas Strip without having to deal with the hassle of walking or driving.
The tram runs continuously throughout the day and night, making it easy to get from one hotel to another at any time. The tram is also completely free to use, which is a nice bonus for visitors who are looking to save money while in Las Vegas.

One of the best things about the Mandalay Bay Tram is how fast and efficient it is. The trams are spacious and comfortable, and they can accommodate a large number of passengers at once. The tram makes frequent stops at each hotel, and the entire trip between Mandalay Bay and Excalibur takes just a few minutes.
Another benefit of the tram is that it runs entirely on electricity, which makes it an environmentally-friendly transportation option. This is important in a city like Las Vegas, where air pollution is a significant issue.
Overall, the Mandalay Bay Tram is an excellent transportation option for visitors to Las Vegas. It offers a quick, convenient, and environmentally-friendly way to move around the Strip, and its completely free of charge. Whether you are staying at the Mandalay Bay, Luxor, or Excalibur, the tram is a must-use resource that will save you time and hassle while exploring all that Las Vegas has to offer.