Omega Shopping at the Bellagio in Las Vegas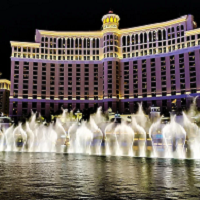 If you're in the market for a new luxury timepiece, Omega at the Bellagio in Las Vegas is definitely worth a visit. This world-renowned brand has been crafting exceptional watches for over 170 years, and their collection at the Bellagio is sure to impress.
First and foremost, Omega is known for their exceptional quality. Each watch is crafted with the utmost attention to detail, using only the finest materials and state-of-the-art technology. The result is a timepiece that not only looks stunning but also performs at the highest level.

At the Omega boutique in the Bellagio, you'll find an impressive selection of watches to choose from. Whether you're in search of a classic timepiece or something more modern and unique, you're sure to find something that suits your taste. Their collection includes a variety of styles, including dress watches, sports watches, and even limited edition pieces.
One of the most popular collections at Omega is the Seamaster series, which includes a variety of sports watches designed for underwater exploration. These watches are not only stylish but also extremely durable and functional. They feature water resistance up to 300 meters and have a helium escape valve for decompression during deep sea dives. Additionally, the Seamaster series includes models with chronograph features, date displays, and other useful functions.
Another popular collection at Omega is the Speedmaster, which is known for its association with space exploration. In fact, the Speedmaster was the first watch worn on the moon, and it has been a favorite of astronauts ever since. These watches are not only functional but also stylish, with a range of designs and colors to choose from.
In addition to their impressive selection of watches, Omega also offers exceptional customer service. The staff is knowledgeable and friendly, and they take the time to help you find the perfect timepiece for your needs. They also offer maintenance and repair services for your watch, ensuring that it remains in top condition for years to come.
When it comes to pricing, Omega watches are definitely on the high end. However, you're paying for the exceptional quality and craftsmanship that goes into each watch. Additionally, Omega watches hold their value well over time, making them a wise investment for collectors and enthusiasts alike.
Overall, Omega at the Bellagio in Las Vegas is an excellent choice for anyone in search of a luxury timepiece. Their exceptional quality, impressive selection, and outstanding customer service make them a top contender in the world of luxury watches. While their prices may be higher than some other watch brands, the investment in an Omega timepiece is sure to pay off in the long run.