Sadelles Cafe Restaurant at the Bellagio in Las Vegas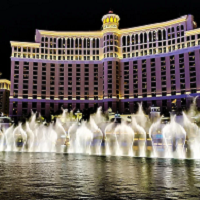 Sadelles Cafe at Bellagio is a place where the bustling energy of New York City meets the glamour and luxury of Las Vegas. This classic-style restaurant has quickly become a must-visit destination for anyone who loves a great breakfast, brunch or lunch.
The first thing that catches the eye when entering Sadelles Cafe is the stunning decor. The vintage-style furniture and decor is reminiscent of old New York City delicatessens, but with a modern twist that fits perfectly in the elegant setting of Bellagio. The warm lighting, brick walls, and classic wooden chairs and tables create a cozy and inviting atmosphere.

The menu at Sadelles Cafe is equally impressive. For breakfast, diners can indulge in classic dishes like pancakes, waffles, and French toast, as well as some unique offerings like the everything bagel and lox, and the Sadelles egg sandwich. The portions are generous, and the quality of the ingredients is impeccable. The coffee is also noteworthy – rich and smooth with just the right amount of kick.
For brunch, Sadelles Cafe offers a mouth-watering selection of appetizers, salads, sandwiches, and entrees. The avocado toast with poached eggs is a must-try, as well as the smoked salmon plate and the Belgian waffle with fresh berries and whipped cream. The lunch menu is just as impressive, with options like the pastrami sandwich and the lobster roll that will satisfy any craving.
One of the standout features of Sadelles Cafe is their bakery section, located at the front of the restaurant. The display case is filled with a mouth-watering assortment of fresh-baked pastries, breads, and cakes. The chocolate babka is a fan favorite, as well as the cinnamon rolls and the black and white cookies. The bakery items are perfect for taking back to the hotel room or for a quick snack while exploring the Bellagio.
The service at Sadelles Cafe is exceptional. The staff is attentive, friendly, and knowledgeable about the menu. They go above and beyond to ensure that diners have an enjoyable experience. Whether it's refilling coffee or recommending a dish, the service at Sadelles Cafe is top-notch.
Another thing that sets Sadelles Cafe apart from other restaurants is the attention to detail. From the beautiful presentation of the dishes to the custom-designed plates and silverware, every aspect of the dining experience has been carefully thought out. Even the water glasses are adorned with the Sadelles Cafe logo.
Overall, Sadelles Cafe is a delightful addition to the Bellagio dining scene. The combination of classic New York City charm with the luxury and glamour of Las Vegas creates a unique and unforgettable experience. The impeccable service, delicious food, and stunning decor make Sadelles Cafe a must-visit for anyone looking for a memorable dining experience.