Review Of Gambling At Caesars Palace In Las Vegas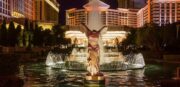 Caesars Palace is an iconic casino resort located in the heart of Las Vegas. With a history dating back to 1966, this luxurious resort is renowned for its opulence, glamour, and top-notch amenities. One of the biggest draws of Caesars Palace is its world-class casino, which offers a vast array of gaming options and an exciting atmosphere that attracts players from all around the world. In this review, we'll take a closer look at the gambling experience at Caesars Palace and explore what makes it such a standout destination for players.
First and foremost, the casino at Caesars Palace is a sprawling 124,181-square-foot space that offers an incredible selection of games. There are more than 1,300 slot machines available, ranging from classic three-reel games to the latest video slots with multiple paylines and exciting bonus features. These machines cover a wide range of denominations, so players of all budgets can find a game that suits their needs. Additionally, there are numerous progressive jackpot games available, including popular titles like Wheel of Fortune and Megabucks, which can offer life-changing payouts to lucky players.

Of course, slot machines are just one aspect of the casino at Caesars Palace. There are also dozens of table games available, including classics like blackjack, craps, roulette, and baccarat. These games are available at a variety of stakes, so players can choose a table that fits their budget and skill level. Additionally, there are numerous specialty games available, including Pai Gow Poker, Let It Ride, and Three Card Poker, among others.
One of the standout features of the casino at Caesars Palace is its exclusive high-limit gaming area, known as the Palace Court. This area offers an elevated gambling experience for players who want to take their gaming to the next level. There are numerous high-limit slot machines and table games available, as well as a dedicated cashier and attentive staff who are on hand to cater to every need.
Another reason why Caesars Palace is such a popular destination for gamblers is the sheer size and grandeur of the casino. The gaming floor is impeccably designed, with elegant furnishings, high ceilings, and beautiful lighting that create an atmosphere of luxury and sophistication. The casino is also home to several bars and lounges, where players can take a break from the action and enjoy a drink or two while soaking up the lively atmosphere.
Of course, the gambling experience at Caesars Palace is not just limited to the casino floor. There are also numerous sports betting options available, including a dedicated sportsbook that offers a wide range of betting markets and live in-game betting options. Additionally, Caesars Palace is home to a state-of-the-art poker room, which hosts daily tournaments and cash games featuring some of the best players in the world.
One of the things that sets Caesars Palace apart from other casinos in Las Vegas is its commitment to providing a safe and responsible gaming environment. The casino takes its responsibility to its players seriously and offers a range of resources to help players stay in control of their gambling. These include a self-exclusion program, a 24/7 helpline for problem gambling, and information on responsible gambling practices.
Overall, the gambling experience at Caesars Palace is second to none. With a vast array of games, high-limit gaming options, and a stunningly beautiful casino floor, this resort offers an unforgettable gaming experience for players of all levels. Whether you're a seasoned gambler or just looking to try your luck, Caesars Palace is a must-visit destination that should be at the top of your list. So why wait? Head to Caesars Palace today and experience the thrill of gambling in one of the world's most iconic casinos.