Review Of Qua Baths And Spa At Caesars Palace In Las Vegas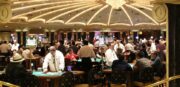 Qua Baths & Spa at Caesars Palace in Las Vegas is a luxurious and relaxing oasis in the heart of the Las Vegas Strip. The spa features a variety of treatments and services, including massages, facials, body wraps, and manicures and pedicures. The spa also has a number of unique experiences, such as the Roman Baths, which are inspired by ancient Roman traditions, and the Arctic Ice Room, which is cooled to a freezing temperature to help guests relax and rejuvenate.

One of the standout features of Qua Baths & Spa is its extensive selection of relaxation areas and amenities. The spa has a large, heated pool area with multiple hot tubs, saunas, and steam rooms. Guests can also relax in the quiet room or on the outdoor patio, which has comfortable lounge chairs and views of the Las Vegas skyline. Additionally, the spa has a fitness center with state-of-the-art equipment and a variety of fitness classes.
The spa's treatments are top-notch and are performed by highly trained and professional therapists. The massages, in particular, are a highlight of the spa and are offered in a variety of styles, including Swedish, deep tissue, and hot stone. The facials are also excellent and use high-quality products to nourish and rejuvenate the skin. The body wraps and scrubs are another great option for those looking to relax and pamper themselves.
One of the things that sets Qua Baths & Spa apart from other spas in Las Vegas is its commitment to sustainability and eco-friendliness. The spa uses eco-friendly products and practices, such as using recycled materials in its construction and using organic and locally sourced ingredients in its treatments.
Overall, Qua Baths & Spa at Caesars Palace is a truly luxurious and relaxing spa experience in the heart of Las Vegas. Its extensive selection of treatments, amenities, and relaxation areas make it the perfect place to escape from the hustle and bustle of the city and unwind. The commitment to sustainability is an added bonus, making it a great choice for those who are environmentally conscious. Whether you're looking for a quick massage or a full day of pampering, Qua Baths & Spa has something for everyone.