Review Of The Foundation Room At Mandalay Bay In Las Vegas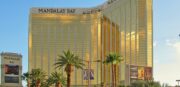 The Foundation Room at Mandalay Bay in Las Vegas is a luxurious and upscale lounge and restaurant that offers stunning views of the city skyline. Located on the top floor of the Mandalay Bay Tower, this exclusive venue is accessible only to members and their guests, as well as those who purchase a one-time entry pass.
The first thing that visitors will notice upon entering the Foundation Room is the breathtaking view of the Las Vegas Strip. The lounge features floor-to-ceiling windows that provide unobstructed views of the city, including iconic landmarks such as the Bellagio fountains and the Eiffel Tower replica at Paris Las Vegas. The view alone is worth the price of admission, and it provides a stunning backdrop for a romantic evening or a night out with friends.

The Foundation Room is also known for its elegant and sophisticated decor. The space features a mix of contemporary and traditional design elements, with rich fabrics, ornate chandeliers, and plush furnishings throughout. The overall effect is one of opulence and luxury, and it's clear that no expense was spared in creating this one-of-a-kind venue.
In addition to the stunning views and luxurious decor, the Foundation Room also boasts an impressive menu of food and drinks. The restaurant serves a mix of American and international cuisine, with a focus on high-quality ingredients and creative preparations. Some of the standout dishes include the bone-in ribeye steak, the lobster bisque, and the truffle mac and cheese.
The drinks menu at the Foundation Room is equally impressive, with an extensive selection of wines, spirits, and cocktails available. The bar features a range of classic cocktails, as well as signature drinks that are unique to the venue. The bartenders are highly skilled and knowledgeable, and they can help guests choose the perfect drink to complement their meal or mood.
One of the unique features of the Foundation Room is its membership program. Members have access to the lounge and restaurant year-round, as well as a range of exclusive perks and benefits. These include priority seating, complimentary drinks, and invitations to members-only events and parties. While the membership fee is quite steep, many guests consider it a worthwhile investment for the access and benefits that it provides.
Overall, the Foundation Room at Mandalay Bay is an exceptional venue that offers an unforgettable experience for those looking to indulge in the best that Las Vegas has to offer. The stunning views, luxurious decor, and outstanding food and drinks make this one of the most memorable places to spend an evening in the city. While the price point is on the high side, the overall experience is well worth it for those who can afford it.