Review Of The Foundation Room At Mandalay Bay In Las Vegas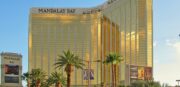 The Foundation Room at the Mandalay Bay in Las Vegas is a luxurious and sophisticated entertainment venue that offers a unique and upscale experience for party-goers. Located on the top floor of the Mandalay Bay hotel and casino, the Foundation Room boasts panoramic views of the Las Vegas Strip and the surrounding city, making it a popular destination for both locals and tourists.

The Foundation Room is a multi-level venue that features a number of different areas, including a main lounge, a private dining room, and a rooftop patio. The main lounge is a spacious and opulent space that is decorated in a lavish, East Asian-inspired style. It features plush seating, intricate details, and a beautiful bar that serves a wide selection of premium cocktails, spirits, and wines. The private dining room is a more intimate space that is perfect for small gatherings and special occasions, while the rooftop patio offers a stunning outdoor setting with stunning views of the city.
In addition to the main lounge and dining areas, the Foundation Room also has a number of private VIP areas and rooms for guests to enjoy a more exclusive experience. These areas often come with their own private bars and bottle service, and are a great option for those looking to celebrate a special occasion or just want to take their night out to the next level.
The Foundation Room is known for its high-energy atmosphere and top-quality entertainment, with past performers including everyone from Snoop Dogg and Wiz Khalifa to DJ Khaled and the Red Hot Chili Peppers. The club also regularly features live music and DJs, making it a popular destination for music lovers.
The Foundation Room is open seven nights a week, with doors usually opening at 9pm and closing at 4am. The club has a strict dress code, so it's important to make sure you're dressed appropriately if you plan on attending.
Overall, the Foundation Room at the Mandalay Bay in Las Vegas is a must-visit destination for anyone looking for a high-end, upscale nightclub experience. Whether you're a fan of live music, DJs, or just want to enjoy a sophisticated night out, the Foundation Room has something to offer. It can be a great place to spend your night in Las Vegas.