Review Of The Light Nightclub At Mandalay Bay In Las Vegas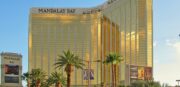 The Light Nightclub at Mandalay Bay in Las Vegas is one of the most exciting and innovative nightlife destinations in the city. This high-tech nightclub is designed to provide a truly immersive experience, with state-of-the-art lighting and sound systems, and some of the world's top DJs performing on a regular basis.
One of the most impressive things about the Light Nightclub is its cutting-edge technology. The entire venue is equipped with over 1,400 individual lighting fixtures, which are used to create stunning visual displays that enhance the music and atmosphere. The sound system is also top-of-the-line, with a custom-designed system that ensures every beat is crystal clear and thumping.

The Light Nightclub is also known for its impressive lineup of resident DJs and visiting artists. This includes some of the biggest names in the music industry, such as Zedd, Skrillex, and Kaskade, among others. The DJs play a mix of house, techno, and electronic music, which is perfectly suited for the high-energy atmosphere of the nightclub.
In addition to the music and technology, the Light Nightclub also features an impressive layout and design. The club is divided into multiple rooms, each with its own unique vibe and atmosphere. There is also a large dance floor, as well as several VIP sections that offer bottle service and private seating.
One of the standout features of the Light Nightclub is its emphasis on creating an immersive experience. The lighting and sound systems are synchronized to create a truly unique atmosphere, and the club also features live performers, including dancers, aerialists, and acrobats. This adds to the overall energy and excitement of the club, making it one of the most vibrant and dynamic nightlife destinations in Las Vegas.
One potential downside of the Light Nightclub is its popularity. The club can get extremely crowded, especially on weekends or during special events. This can make it difficult to move around or find a good spot on the dance floor, and it can also lead to long wait times for drinks or to get into the club.
Overall, the Light Nightclub at Mandalay Bay is a must-visit destination for anyone looking to experience the best that Las Vegas nightlife has to offer. With its cutting-edge technology, top-notch DJs, and immersive atmosphere, the Light Nightclub is a truly unforgettable experience. Just be prepared for crowds and long wait times, especially on busy nights.