Review Of The Promenade Cafe At Circa Casino In Las Vegas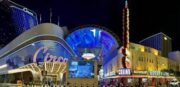 The Promenade Cafe at Circa Casino in Las Vegas is a great spot for a casual breakfast or lunch. Located on the ground floor of the casino, the cafe has a bright and welcoming atmosphere, with plenty of seating both inside and outside on the patio.

One of the standout features of The Promenade Cafe is its extensive menu, which features something for everyone. Whether you're in the mood for a classic breakfast dish like eggs Benedict or something more innovative like avocado toast, you'll find it here. The lunch menu is equally impressive, with a wide range of sandwiches, salads, and burgers to choose from.
In terms of service, The Promenade Cafe definitely delivers. The staff are friendly and attentive, and they go out of their way to ensure that you have a great experience. Whether you're dining alone or with a group, you'll feel right at home at this cafe.
One thing to note is that the prices at The Promenade Cafe are a bit on the high side, especially compared to some other casual dining options in Las Vegas. However, the quality of the food and the overall atmosphere of the cafe more than make up for it.
Overall, The Promenade Cafe at Circa Casino is a great choice for a casual meal in Las Vegas. Whether you're looking for a quick breakfast before hitting the casino floor or a leisurely lunch with friends, you'll find everything you need at this cafe. Just be prepared to pay a bit more for the privilege of dining here.