Review Of The Promenade Cafe At Circa Casino In Las Vegas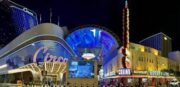 The Promenade Cafe at Circa Casino in Las Vegas is an absolute must-visit for anyone looking for an exceptional dining experience. From the moment you step foot into this stylish eatery, you're transported to a world of culinary bliss.
One of the first things you'll notice about the Promenade Cafe is its ambiance. The decor is chic and modern, with a warm and inviting atmosphere that makes you feel right at home. Whether you're dining alone or with a group, the comfortable seating and well-lit surroundings will put you at ease.

But the real star of the show at the Promenade Cafe is the food. The menu is packed with mouth-watering dishes that are sure to please even the most discerning palates. From breakfast favorites like eggs Benedict and Belgian waffles to lunchtime staples like burgers and sandwiches, the selection is simply unbeatable.
But it's not just the variety of dishes that makes the Promenade Cafe stand out. Each item on the menu is expertly prepared using only the freshest, highest-quality ingredients. Whether you opt for the crispy chicken sandwich, the mac and cheese bites, or the grilled salmon salad, you can be sure that you're getting a meal that's made with care and attention to detail.
And let's not forget about the service. The staff at the Promenade Cafe are among the most attentive and friendly you'll find anywhere in Las Vegas. From the moment you sit down, they'll go out of their way to ensure that your dining experience is nothing short of perfect.
In short, if you're looking for a top-notch dining experience in Las Vegas, you can't go wrong with the Promenade Cafe at Circa Casino. With its inviting atmosphere, unbeatable menu, and exceptional service, it's truly a standout restaurant that's sure to leave a lasting impression.