Nelson Ghost Town: Ghosts Haunting Abandoned Buildings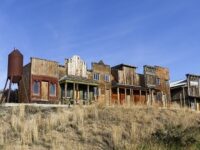 Nestled in the Eldorado Canyon just outside of Las Vegas, the Nelson Ghost Town is a destination for those seeking a glimpse into the past and the ghosts that still haunt the abandoned buildings.

Located approximately 45 minutes from the Las Vegas Strip, the Nelson Ghost Town can be reached by taking U.S. Route 95 south to State Route 165, then turning right onto Nelson Road and following it until you reach the town.


The town was founded in the late 19th century as a mining community and was named after Charles Nelson, one of the town's early settlers. Today, the town is a popular destination for tourists and ghost hunters alike, who come to explore the abandoned buildings and search for signs of the ghosts that still linger in the area.

But be warned: the ghosts of the Nelson Ghost Town are not your average spirits. They are said to be particularly vengeful and prone to mischief, with a penchant for playing tricks on unsuspecting visitors.

One of the most famous ghosts of the town is the Lady in Red, who is said to haunt the historic Techatticup Mine. Legend has it that the Lady in Red was a prostitute who was murdered by a jealous lover, and her ghost has been seen wandering the mine and nearby buildings ever since.

Visitors to the Nelson Ghost Town have reported seeing strange apparitions, hearing ghostly whispers, and feeling the touch of unseen hands. Some have even reported being pushed or grabbed by invisible entities.

Despite the spooky reputation of the town, many visitors still flock to the area to explore the abandoned buildings and soak in the atmosphere of the Wild West. The town's historic saloon, which dates back to the late 1800s, is a particularly popular spot for those looking to experience a taste of the past.

But even those who aren't afraid of ghosts should take caution when exploring the Nelson Ghost Town. The abandoned buildings and structures can be dangerous, with rotting wood, unstable floors, and other hazards lurking around every corner.

Additionally, visitors should be aware that the town is located on private property and is not open to the public at all times. The town is only open to visitors during specific hours, and visitors should be sure to check the hours of operation before making the trip.

Despite the risks and dangers, the Nelson Ghost Town remains a popular destination for those seeking adventure and a taste of the paranormal. Whether you're a seasoned ghost hunter or just a curious traveler, the town's spooky atmosphere and haunting history are sure to leave a lasting impression on your soul.