Casino Floor at Bellagio in Las Vegas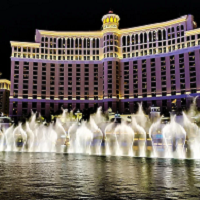 The Casino floor at the Bellagio in Las Vegas is a stunning and upscale gambling destination that offers a wide variety of games and entertainment options for all types of players.
Upon entering the casino, guests are immediately struck by the luxurious atmosphere and grandeur of the space. The high ceilings and elegant decor, complete with sparkling chandeliers and marble flooring, give the casino a feeling of opulence and refinement.


One of the standout features of the Casino floor at the Bellagio is the abundance of gaming options available. The casino boasts an impressive selection of slot machines, ranging from classic three-reel games to the latest and most popular video slots. There are also plenty of table games to choose from, including classics like blackjack, craps, roulette, and baccarat, as well as more specialized games like Pai Gow and Three Card Poker.

In addition to traditional gaming options, the Bellagio also offers a range of high-stakes private gaming rooms for VIP players, as well as a spacious poker room for those looking to test their skills against other players.

But the Casino floor at the Bellagio is not just about gambling. The casino also features a number of bars and lounges, including the iconic Lily Bar, where guests can enjoy a drink or catch a live performance by some of the hottest acts in the entertainment industry. The casino also hosts a number of special events and promotions throughout the year, such as slot tournaments and cash giveaways, adding an extra element of excitement to the gambling experience.

Overall, the Casino floor at the Bellagio is a top-notch destination for those looking to experience the best of what Las Vegas has to offer. The wide range of gaming options, luxurious atmosphere, and top-notch entertainment make it a must-visit destination for any Vegas vacation.