Review Of The Colosseum Theater At Caesars Palace In Las Vegas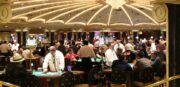 The Colosseum at Caesars Palace is a luxurious 4,000-seat theater located in the heart of the Las Vegas Strip. As one of the premier entertainment venues in Las Vegas, the Colosseum has played host to some of the biggest names in the entertainment industry, including Elton John, Mariah Carey, and Lady Gaga.

The theater itself is a breathtaking spectacle, with its state-of-the-art sound and lighting systems, comfortable seating, and impressive stage. The Colosseum is known for its intimate atmosphere, making it a great place to see a show up close and personal.
One of the standout features of the Colosseum is its diverse lineup of performers. The theater has hosted everything from concerts and comedy shows to magic acts and sporting events. Past performers have included everyone from Celine Dion to Jerry Seinfeld, ensuring that there is something for everyone at the Colosseum.
In addition to the top-notch entertainment, the Colosseum also offers a variety of amenities to make your experience even more enjoyable. The theater has several concessions stands, as well as a full-service bar, so you can grab a drink or snack before the show. There are also VIP seating options available for those looking for a more luxurious experience.
Overall, the Colosseum at Caesars Palace is a must-see destination for anyone visiting Las Vegas. Whether you're a fan of music, comedy, or magic, there is always something exciting happening at the Colosseum. The theater's intimate atmosphere and top-notch performers make it a great choice for an evening out in Las Vegas.