Western Journey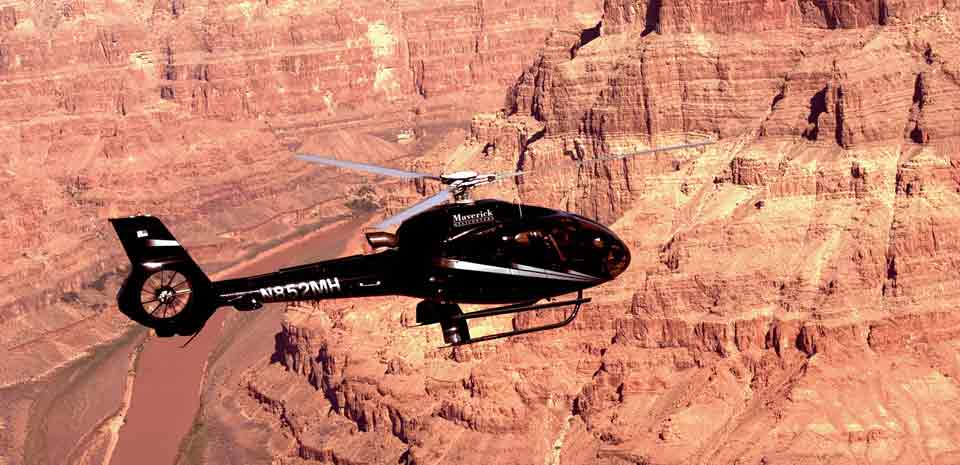 Guests who may not feel well or have symptoms of Covid-19 to contact Maverick prior to your flight. All guests will be screened for a mandatory temperature check prior to entrance into the flight terminal. Guests with a temperature above 100.4 will have a secondary screening and may be refused service based on health factors. All guests are required to wear face protection. We ask all guests to limit personal belongings and bags coming into the terminal and on flights.
Begin your helicopter tour with a scenic flight over Lake Mead, Hoover Dam, Fortification Hill and Temple Rock. Fly through the majestic Grand Canyon as you head toward your primary destination – the Grand Canyon's stunning West Rim. Upon landing, you'll have about three and a half hours to take in the various overlooks and highlights of the West Rim.
During this ground time, you may explore the following: Eagle Point Skywalk: A true engineering feat, this glass walking surface suspends more than 4,000 feet above the Grand Canyon and extends more than 70 feet from the edge.
Native American Village: Experience a walking tour of an authentic Native American dwelling. Amphitheater: See live Native American performances throughout the day from multiple tribes.
Guano Point ("Highpoint Hike"): Guano Point offers breathtaking panoramic canyon views of the Grand Canyon and Colorado River.
Historic Tram: See remnants of a tram that once stretched 8,800 feet across the canyon to a Guano mine discovered in the 1930s.
Hualapai Ranch Horseback Riding: Several horseback riding options are available, including a 30-minute trail ride that takes you to the canyon rim or an arena ride.
Western Hospitality: Enjoy cowboy entertainment, wagon rides, roping demonstrations and more. Note: The Skywalk tour, horseback riding and some of these attractions require an additional fee, which are not included in your tour. For each guest weighing more than 300 pounds, an adjacent empty seat is required to safely balance the aircraft. 
Western Journey Adventure
After you make reservations for your adventure, you will be told how to start this adventure. This tour is part air and land with scenic views of Hoover Dam, Temple Rock and the West Rim of the Grand Canyon.