Mandalay Bay Spa In Las Vegas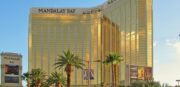 The Mandalay Bay Spa in Las Vegas is a luxurious retreat that offers a wide range of spa treatments and services. Located within the Mandalay Bay Resort and Casino, the spa provides a tranquil and peaceful oasis from the hustle and bustle of the Las Vegas Strip.
Upon entering the spa, guests are greeted with a serene and calming atmosphere. The spa is beautifully decorated with warm colors, soft lighting, and elegant furnishings, creating a welcoming and relaxing environment.

One of the standout features of the Mandalay Bay Spa is its extensive menu of treatments and services. From massages to facials to body treatments, there is something for everyone at this spa. The spa uses only the highest quality products and employs skilled and experienced therapists to ensure that each guest receives the best possible experience.
The massage treatments at the Mandalay Bay Spa are particularly impressive. There are a variety of massage styles to choose from, including Swedish, deep tissue, hot stone, and aromatherapy. Guests can also opt for a couples massage, which is the perfect way to relax and unwind with a loved one.
In addition to massages, the spa also offers a range of body treatments, including body wraps and scrubs. These treatments use natural and organic ingredients to nourish and rejuvenate the skin, leaving guests feeling refreshed and revitalized.
For those looking for a more personalized experience, the Mandalay Bay Spa also offers custom facials. These facials are tailored to the specific needs and concerns of each individual guest, using products and techniques that are designed to address a variety of skin issues, including acne, aging, and dryness.
The spa also features a full-service salon, offering a range of hair and nail services. Guests can choose from a variety of treatments, including haircuts, color, styling, and manicures and pedicures. The salon uses high-quality products and employs skilled and experienced stylists and technicians to ensure that guests receive the best possible results.
Another highlight of the Mandalay Bay Spa is its impressive amenities. The spa features separate men's and women's lounges, each with a variety of amenities, including steam rooms, saunas, hot tubs, and showers. Guests can also enjoy the spa's relaxation lounge, which features comfortable seating and a selection of healthy snacks and beverages.
Overall, the Mandalay Bay Spa in Las Vegas is a must-visit for anyone looking for a luxurious and relaxing spa experience. With its extensive menu of treatments and services, high-quality products and skilled therapists, and impressive amenities, this spa is the perfect place to unwind and rejuvenate on the Las Vegas Strip. Whether you're a local or a visitor, the Mandalay Bay Spa is sure to exceed your expectations and leave you feeling pampered and refreshed.