Review Of Gambling At Caesars Palace In Las Vegas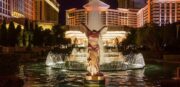 Caesars Palace is a luxury hotel and casino located on the Las Vegas Strip in Paradise, Nevada. The property is known for its Roman-themed architecture and opulent amenities, making it a popular destination for tourists and gamblers alike.

As a casino, Caesars Palace offers a wide range of gambling options for visitors. The casino floor is home to hundreds of slot machines and table games, including popular games like blackjack, craps, roulette, and baccarat. There are also poker rooms and a sportsbook for those interested in betting on sports.
One of the standout features of Caesars Palace's casino is its high-limit areas. These exclusive areas offer higher stakes gambling options for those looking for a more intense experience. The casino also hosts regular tournaments and events, such as slot and blackjack tournaments, which can be a fun way to try your luck and potentially win big.
In addition to traditional gambling options, Caesars Palace also offers a variety of other entertainment options. The property has several restaurants, bars, and lounges, as well as a shopping mall and a spa. There are also regular live performances at the Colosseum, the hotel's 4,000-seat theater. Past performers have included big names like Elton John, Mariah Carey, and Lady Gaga.
Overall, Caesars Palace is a top destination for gambling in Las Vegas. The property's luxurious atmosphere and wide range of gambling options make it a great choice for those looking for a high-end Vegas experience. Whether you're a seasoned gambler or just looking for some casual fun, Caesars Palace has something for everyone.